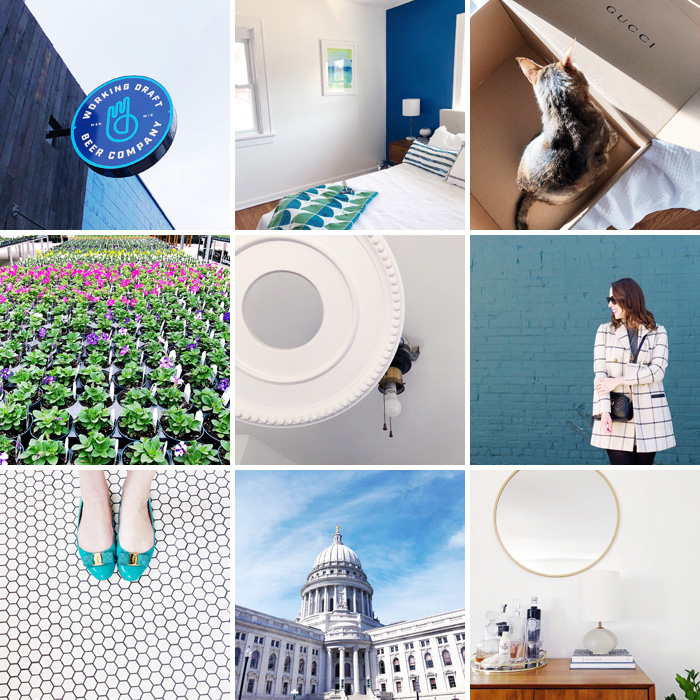 March was fun, but I have to admit that I'm excited for it to be over so we can finally head into spring! Granted, I've already been pretending the weather is warmer than it actually is with bare legs and sleeveless tops (this machine-washable merino shell is perfect for work).
In addition to this month's mini moments below, we've been gearing up for our London trip. It's wheels up next Friday and I can't wait! Dave splurged to upgrade our seats to United's Economy Plus, so I'm sure I'll feel extra fancy next week. (He went with the subscription option for Economy Plus where you and another passenger can be upgraded on every flight for a year. We're going to Austin at the end of May and we'd like to book something else for later in the year to make sure we get our money's worth. We've been daydreaming about Europe for Christmas markets this December if we somehow find ourselves with extra cash, but that seems unlikely with our house projects!)
Mini Moments (top to bottom, left to right):
A new brewery opened in Madison. The couple of beers we tried were really good and well balanced, and they have a rotating menu from one of the best chefs in town. We'll likely be frequenting the place this spring and summer since it's right off the bike path. Part of the reason we moved to the neighborhood we did was for the walkability and bikeability to bars and restaurants, and we've certainly been taking advantage of it! A couple of weeks ago, we ventured off for a Sunday Funday with a few of our neighborhood friends and had a blast visiting dive bars and playing shuffleboard.
I finally hung up artwork in our bedroom! I've had that print (c/o Minted) for a couple of years now and it's never actually been on a wall. I've only had it propped up against the wall in our apartment because I couldn't find just the right spot for it despite adoring it as much as I do. The colors work so well with our accent wall and that new Target throw blanket. (It does look a little small in that photo, but it should be okay once we get curtains installed.)
Admittedly, I'm not always the best at breaking down cardboard boxes and recycling them right away. I finally got around to it and, of course, Bacon picks the Gucci box to play in. What a fancy cat!
We stopped by a local greenhouse last weekend to purchase a snake plant for this planter. Thanks to the perfect rows of spring plants, I left inspired to work on our deck and yard when we get back from our trip. We've even picked out our deck paint already!
We're starting to replace our light fixtures around the house. Some will be replacing ceiling fans, so we've opted to buy medallions to cover up any damage from the brackets rather than patching it. I love the added architectural detail to our 1920s home. The polka dot trim on this ceiling medallion makes it my favorite one yet.
I'm just going to go ahead and pack this entire outfit for London.
A bathroom renovation is a long way off, but I can't help daydreaming about the tile we'll eventually get! I love this floor, and I've had this tile and this one bookmarked, but a vintage-inspired hexagon pattern is just as tempting.
Last Sunday was a pretty perfect spring day in Madison, so we went for a long walk up and around the Capitol.
This gorgeous alabaster lamp (c/o Cottage & Bungalow) was all the motivation I needed to restyle our bar cabinet. I love the mid-century modern shape and the natural element the stone brings to the space. I'll have more photos and a discount code for you next week!
More Mini Moments: January, February
–
Let's keep in touch!  Instagram / Facebook / Pinterest / Bloglovin'