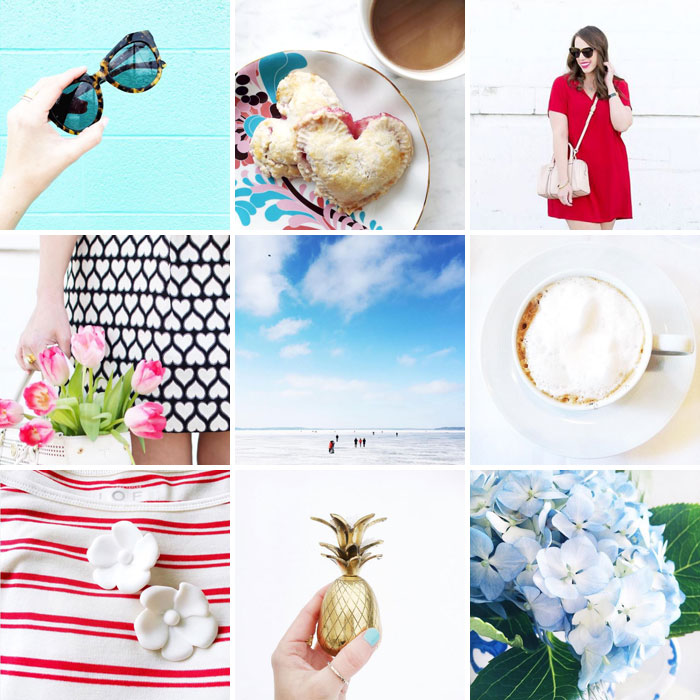 I had originally planned on an outfit post today, following yesterday's Instagram teaser. However, a spell of insomnia last night left me wide awake until sometime between 3:30 and 4:00 a.m. and much too tired to work on a post before work. I'm finding sleepless nights more frequent as I get older. Usually taking melatonin or reading for an hour will make me sleepy enough to forget whatever it is I'm worried about, but no such luck last night. I've picked up Zzzquil for the next sleepless night. Has anyone tried it?
Exhaustion aside, February was a pretty fun month — and what better day to celebrate it than on Leap Year's bonus day?! Without doing any actual research, I'd go out on a limb to say that this must have been one of the most temperate Februarys on record with warm, springlike weekends. (Mother Nature was much more seasonably cold during the work week.) I even went without tights on three separate weekends!
February's Mini Moments:
Enjoyed sunny days in my favorite sunglasses.
Made mini heart-shaped cherry pies for breakfast. I used this press, but found that cutting out heart shapes and pressing them together with my fingers or a fork was more efficient. A double pie crust recipe made enough for four mini pies. I used a half can of cherries to make a filling.
Obsessed over this red dress, worn here.
Celebrated Valentine's Day with a heart-print dress.
Went for a long walk on a sunny day, but wasn't brave enough to stroll across the ice like some were!
Consumed copious amounts of coffee. While the above photo wasn't a cup brewed at home, I've been obsessing over my new French press. I had been missing out for years!
Purchased the best striped long-sleeve top. I've worn it at least once a week since purchasing it. I also added a pair of oversized earrings to my collection.
Preferred pineapples to snow. Obviously.
Treated myself to a fluffy bouquet of hydrangeas. The Tory Burch pitcher is the perfect size for them.