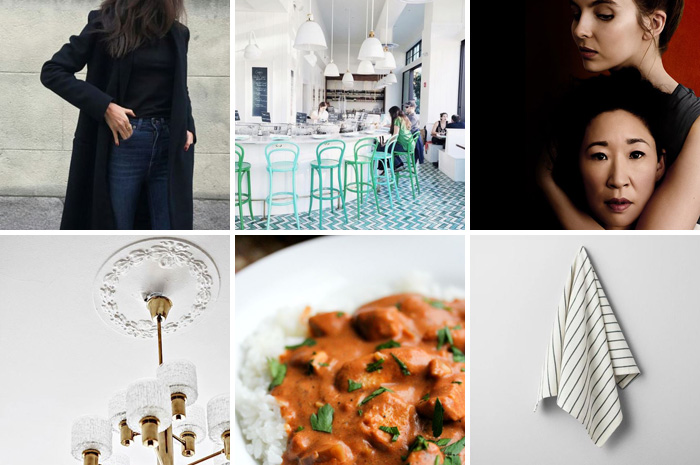 Happy Labor Day! I can barely believe it's September. It feels like we just flipped the calendar to June and while summer is technically in full swing for a few more weeks (and it certainly feels like summer outside), fall temps will be here before we know it. Before we head into another month, I thought it would be fun to share a roundup of the things I've been up to and interested in over the past few weeks.
BUYING
My fall wish list is all about the classics. I didn't take advantage of too many Labor Day sales, but I did snag a few things to round out my wardrobe: a black shell (can be worn on its own or over blouses), a black turtleneck (my old one shrunk in the wash), black pants (although there's a good chance these are going back), a tie-neck blouse (love the powder blue color), and a striped t-shirt. I've been tired of my weekday wardrobe, so provided these all work out, they'll serve as good foundation pieces for the upcoming seasons.
PLANNING
Our trip to Seattle is fast approaching. We're heading to Washington for my brother's wedding in three weeks. He lives in Selah, but since I hadn't been to the state before, we tacked on a few days before and after the nuptials to explore the Seattle area. Any recommendations of what to do? Where to eat? Best breweries to visit? Instagrammable areas? Coolest natural areas that are within a two-hour drive? Any and all ideas are welcome!
WATCHING
Last week we started — and finished — Killing Eve. It's been a long time since I've been so enthralled with a show that I actually put my phone down for the entire thing. I can't wait for season two.
INSTALLING
A few months ago, we purchased a ceiling fan to replace the one in the bedroom. However, we quickly learned the junction box couldn't support a ceiling fan (perhaps that's why the old one wobbled dangerously) and after talking to our electrician, we decided we didn't want a ceiling fan that badly given the cost of installing a new box. So, we recently bought a pretty fixture instead. The hole from the fan is too large for the new fixture's canopy to cover, so we're adding a ceiling medallion. I love the traditional look of a medallion, especially when it's paired with a modern fixture. Here's a tutorial on how to install a medallion if you're curious.
COOKING
Alright, it's too hot outside to actually start making slow cooker recipes, but this one for chicken tikka masala is one to have on hand for when things do cool down. We make it at least twice a month during fall and winter. When you assemble it, make a second set of the spice mixture to store. It cuts down on prep time the next time you make it.
STOCKING UP
The Hearth & Hand floursack towels are fantastic quality for the price point. I bought a lot of them last fall when the line first debuted and they've held up beautifully.
Let's keep in touch!  Instagram / Facebook / Pinterest / Bloglovin'