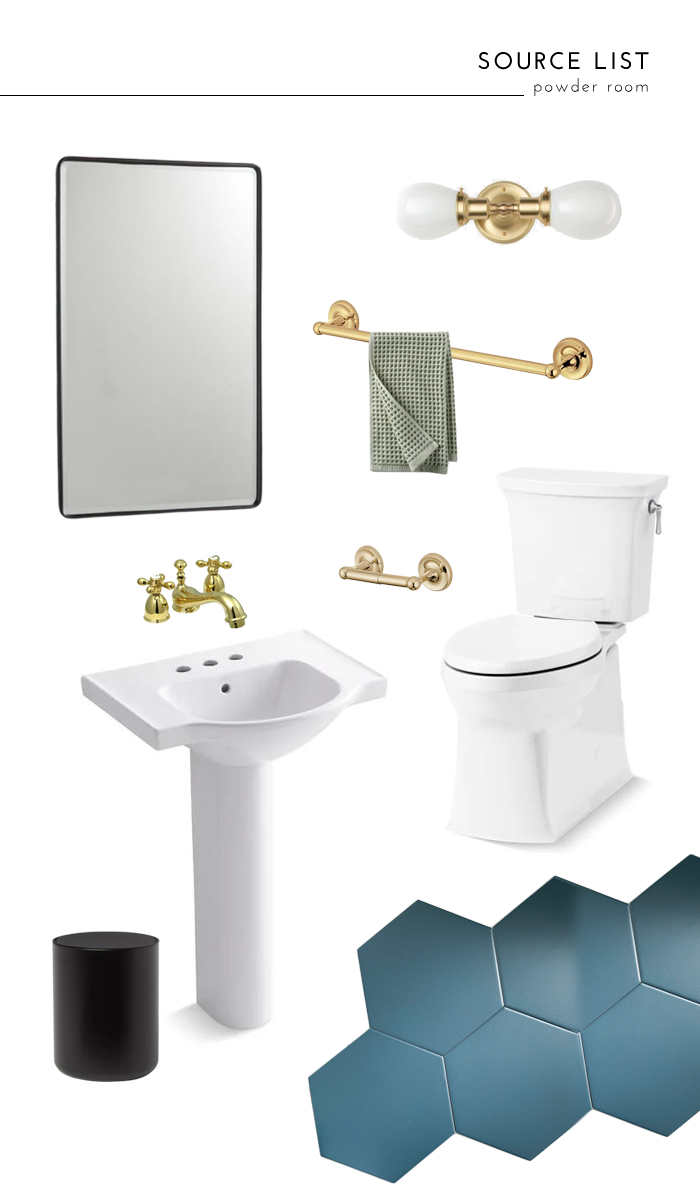 SOURCES: medicine cabinet / light fixture / light shades / pedestal sink / faucet / toilet / toilet seat / towel bar / toilet paper holder / tile / hand towel / lidded wastebasket

Our renovations are coming up with work scheduled to begin on Feb. 15! We're starting with our powder room, which is on the main floor right off the kitchen. This project is scheduled to take roughly two weeks before our contractor moves to our main bathroom on the second floor.
We decided to do our half bath first to give us a functional bathroom on the first floor while our main bathroom is gutted. We do have a shower in our unfinished basement that we can use during the renovation, but I really didn't want to use the basement bathroom longer than necessary. It's kind of gross down there and not exactly the ideal location to get ready for the day!
Knowing that we're in crunch time for making final decisions, we placed a lot of product orders over the past couple of weeks. One of the items I asked for feedback for on Instagram was the faucet. I didn't realize that sinks have two different standard widths for widespread faucets: four inches and eight inches. Had I realized this before buying the pedestal sink, I would have gone with the eight-inch widespread version because I fell in love with this faucet. We already had the sink delivered and I didn't want to pay for return shipping, so I had some stress-induced tears and searched for an alternative, coming up with these:
The faucets are both by Kingston Brass and essentially the same design, aside from the knobs. I was originally leaning toward black, but 75% of those who voted on Instagram preferred all brass. I figured I'd give it a go since the faucet I originally loved was also all brass. It's scheduled to be delivered on Monday. Assuming the color of the brass is similar to the fixture on the right, then I'll be delighted. I'm hoping it doesn't read too 1980s-faux-brass-yellow. I suspect it'll be fine, though, considering all of the fixtures on the brand's Instagram page look beautiful. (The towel bar and toilet paper holder are by the same company. Hopefully all of the brass hues match.)
We also had to pivot from the floor options I talked about here. I really wanted to go with color for the flooring. I liked the blue a lot, but couldn't get past the jagged edges of the tile. I stopped by a local tile shop (Malony Tile for those in Madison) and found this tile:
The color is very similar to the tile in the opening photo here (which is the tile I originally wanted to go with), but I prefer that it's not concrete so it'll be easier to clean. It also brings in some of the deep blue-green of our stairwell paint. I also love that it makes the room feel more fun. The main bathroom is getting those marble hexagon tiles that you can see here and it's going to be much more traditional and refined. The house needs a bit of fun that still leans classic.
We are waiting to purchase the medicine cabinet. I really want hidden storage in that space for things like Tylenol, but we need to wait until the wall is open to see where the plumbing stack is. Assuming it's not right where the mirror is going, we'll go ahead and order this one. I don't have an alternative wall-hung mirror picked out, so keep your fingers crossed!
–
Let's keep in touch!
Instagram / Facebook / Pinterest / Bloglovin'
This post contains affiliate links.