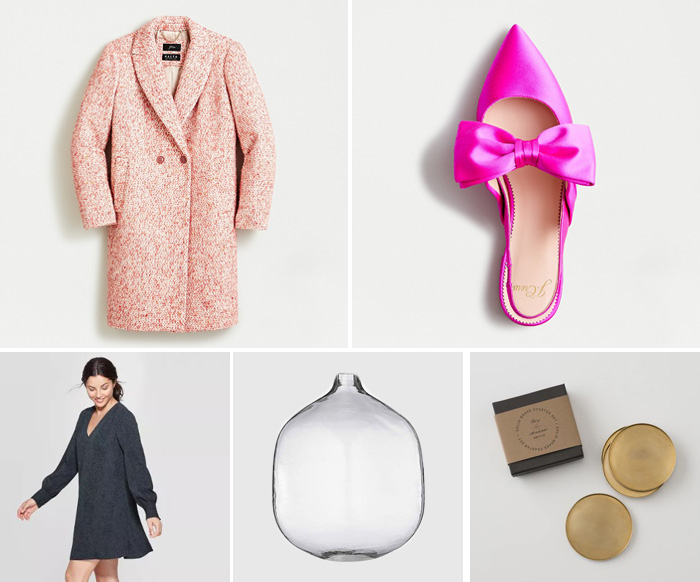 PURCHASED – FOR ME
See all of this year's sartorial additions here.
Target snake print, v-neck mini dress – I'm all about a long-sleeve mini dress and this one won me over with its low price point. It's good quality and there's a pretty pleated detail at the wrist. I went with my normal size. It's obviously loose and swingy, but I don't think a size smaller would have fit my shoulders correctly.
J.Crew 'Gwen' slingback flats in bright berry – This is one of my favorite sartorial purchases in a long time! I prefer flats to heels and had been yearning for a party-perfect pair for the holidays. The color is gorgeous! They run true to size.
J.Crew 'Daphne' tweed topcoat in guava – Continuing my adoration of pink lately, I ordered this lightweight coat to wear this fall. It looks vintage in the very best way and pairs well with tans and burnt oranges. It has already snowed in Madison (twice!) so I'm not sure how much use I'll be able to get out of it the rest of the season, but the color will carry well into spring. It runs a bit large.
PURCHASED – FOR HOME
Schoolhouse Electric brass coaster set – You already know that I'm a huge fan of Schoolhouse Electric products, and these are my latest acquisition from the company. They're beautifully made and will get better with time as they develop a patina. I'm going to purchase a second set at some point so we have enough when guests come over.
Bloomingville clear glass vase – This is a great size and the small opening on top is perfect for displaying a branch.
DIDN'T WORK OUT
Things I tried and didn't love.
J.Crew lodge coat in heather acorn – I couldn't quite get the sizing to work for me on this given that my bottom half is larger than my top. And when I did, the coat just felt too boxy. It was well made, though, and I love the ribbed trim at the sleeves to keep the cold air out. The color is beautiful.
–
Let's keep in touch!
Instagram / Facebook / Pinterest / Bloglovin'