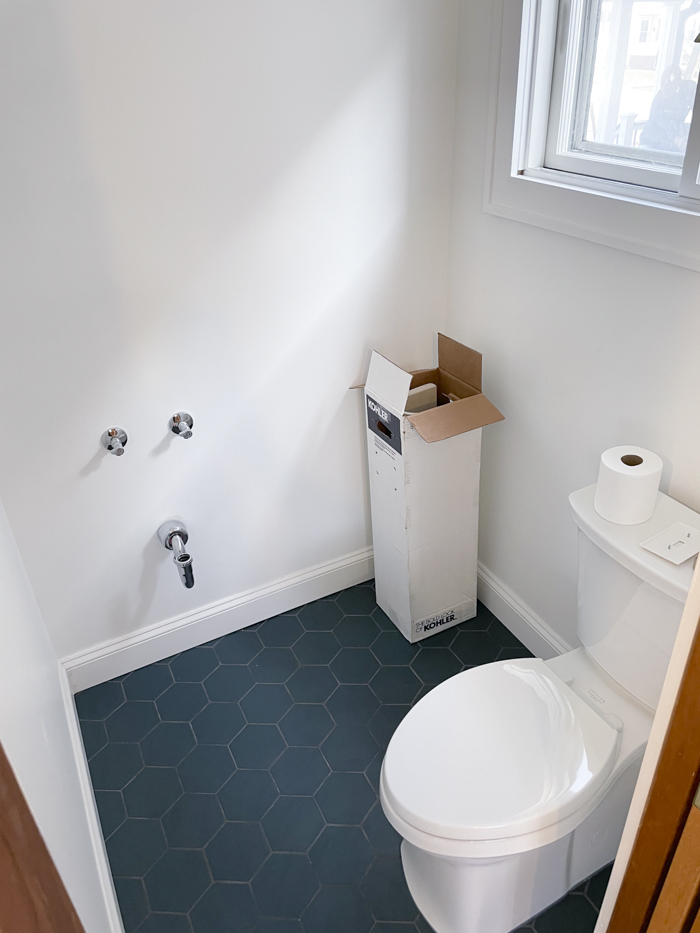 It's been awhile since I've checked in! Our computer malfunctioned so I was MIA for a little while until we could get that back in working order and it couldn't have come back at a better time when I have some updates to share with you from my last progress report on our powder room.
First things first, a peek of that easy-to-clean, flat-sided toilet was my most commented-on Instagram story ever. I love that we're at the age where stuff like this excites us! If you're the market for a toilet, you can find it here and here. I bought the recommended toilet seat for it.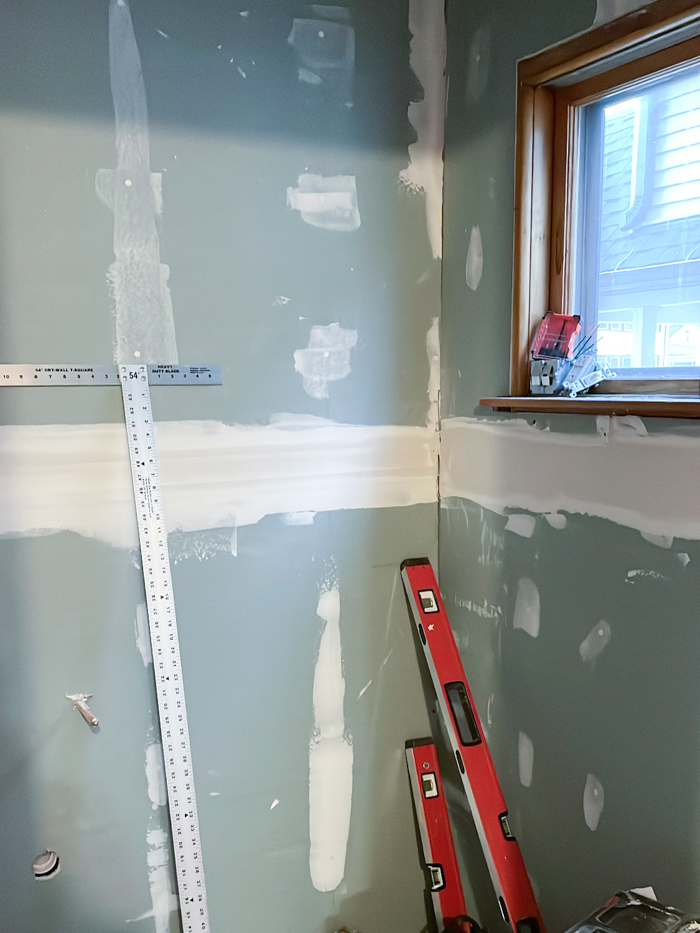 Shortly after we left off, the drywall went up and it finally felt like a room again! We had a few days of mudding and sanding. In a perfect world, we would have primed and painted before the tile went in, but we had some scheduling delays that moved the tile up on the priority list. And trust me, I was not mad at it. Seeing the tile installed made my heart soar and I could finally see my vision board come together. It's one thing to make a collage in Photoshop, but it's another to see your selections actually take shape and work together.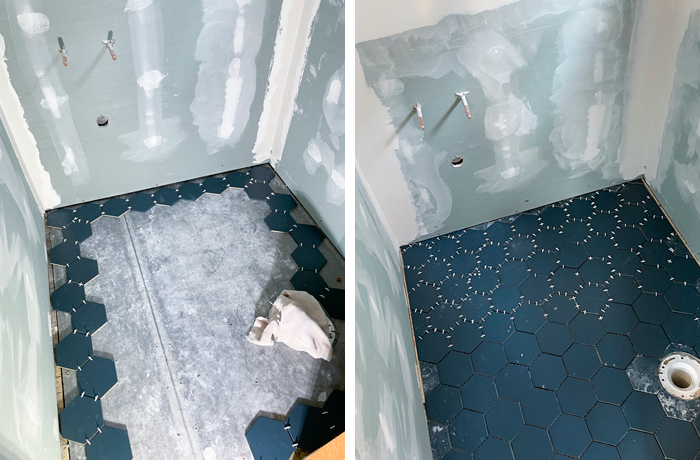 It was around this point where I snuck downstairs and smugly smiled to myself thinking "I have good taste." Haha. But it felt so good to see the pieces fall into place so well — and quite literally at that. You'll see that we lucked out and were able to place a full tile at each corner and along the sides of the room. We did have a delay with the grout, so after the tile set in mortar, the floor was covered and attention moved to the walls and woodwork.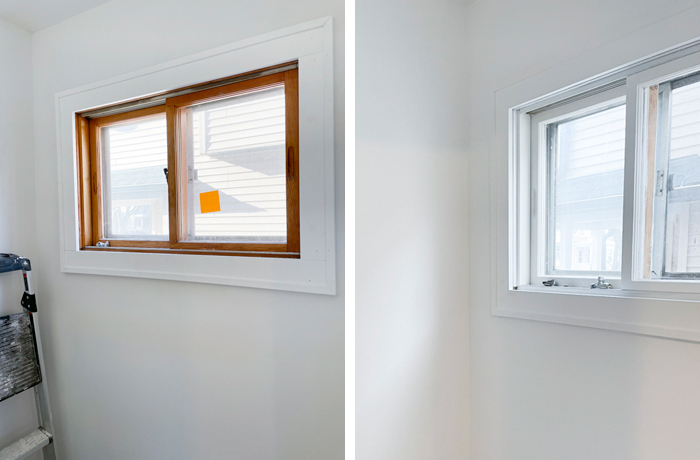 One of the things I really wanted to do in this space was make the millwork mimic that of the original trim in the house. They removed the frame and sill of the existing window in the half bath and rebuilt trim to match our window casings elsewhere. The window itself is pretty crappy and we'll probably replace it down the road, but the new trim makes it seem so much larger and adds much-needed architectural detail in this space. The team still has some work to do with it to add a sill and a finishing piece over the seam, but I'm just so happy with it. They did a similar trim around the doorframe, and they put in baseboards that match the profile of our original trim on the first floor. (You can see these in the opening photo.) Our contractor's team is so talented and they have such acute attention to detail that makes my perfectionist-heart sing!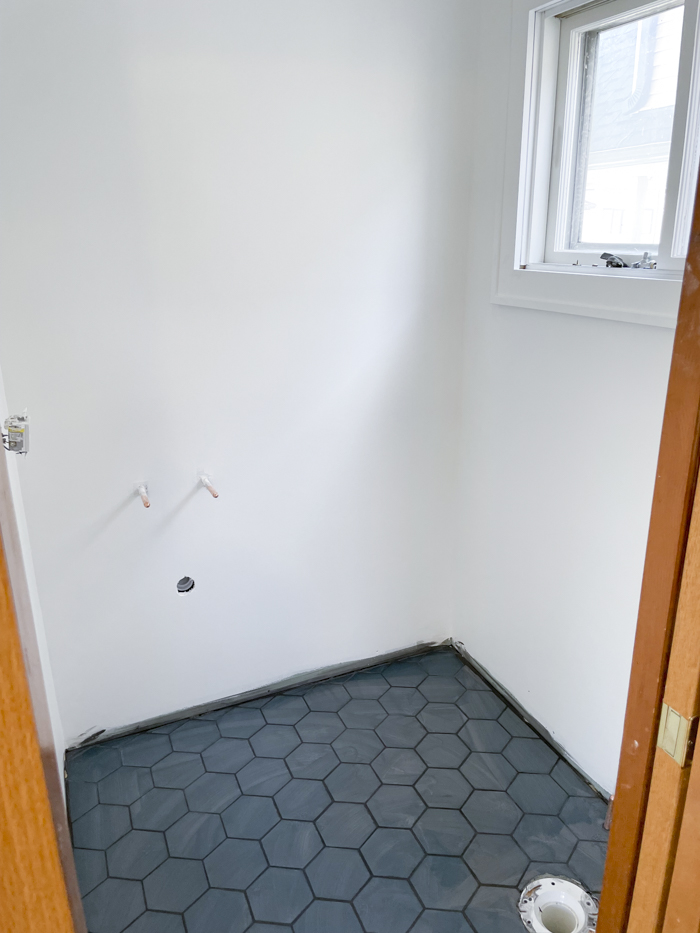 The grout arrived on Friday of last week, which allowed the team to get that taken care of fairly quickly. This week was all about dehazing the grout, placing the finishing pieces like the trim, and starting to install fixtures. We still have to seal the floor and finalize locations of things like the mirrors and towel bars, but we're getting there! The team also moved to the main bathroom on Monday and have already completed demo and leveled the floor. I'll share more about that space in the coming weeks!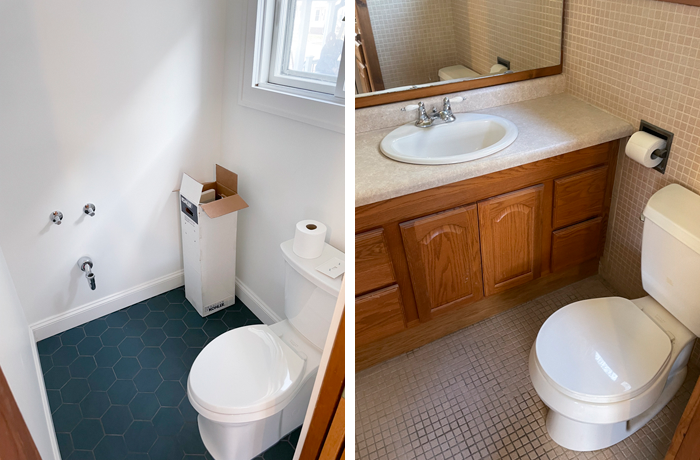 Until then, here's a tiny peek at how far along this room has come. I'll do a reveal post once we're complete with a full source list.
–
Let's keep in touch!
Instagram / Facebook / Pinterest / Bloglovin'
This post contains affiliate links.