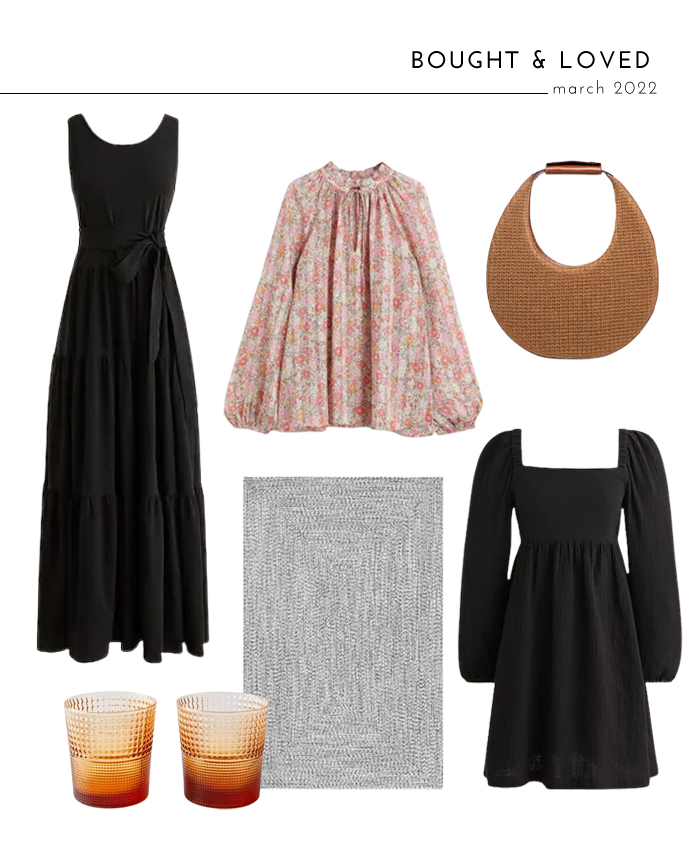 WARDROBE
See this year's sartorial additions here.
HOUSEHOLD
Target 'Calla' patio ottoman ($150; not pictured) – We've wanted to buy an outdoor ottoman for the past two years, but would forget until early summer when patio furniture was long gone. I snagged this one at Target right away this year and it's a great size for both of us to use it at the same time. Plus, it's on the affordable side of outdoor furniture. I don't love the faux bamboo paint job on the metal frame and am going to spray paint it black to match the rest of our outdoor pieces once it's warmer out.
IVV textured lowball glasses ($48/two) – I'm such a sucker for pretty glassware and finally indulged in a pair of these after crushing on them for awhile. They're beautiful and they make me the happiest.
nuLOOM braided indoor/outdoor accent rug in the 2′ x 3′ size in light grey ($24) – I bought a pair of these for interior doormats because I wanted something more neutral than what we had originally. I can't actually lay them out yet since our first floor is covered with paper for construction, but I think they'll be a nice option. There are brown and black threads woven throughout so hopefully it'll hide dirt. It's made of polypropylene, so it should be easy to hose off when it's dirty.
–
Let's keep in touch!
Instagram / Facebook / Pinterest / Bloglovin'