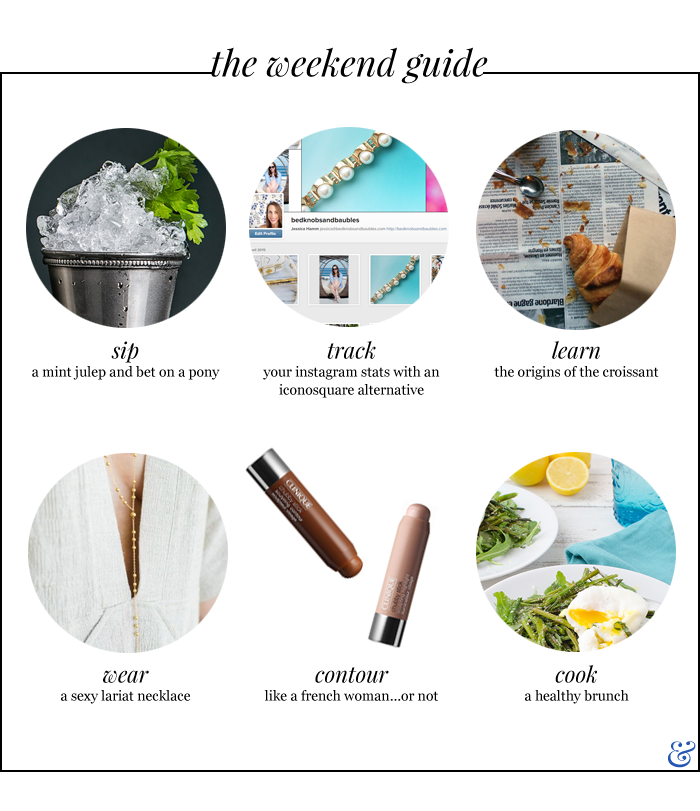 SIP
Gear up for the Derby today with a julep while you place your bets. If you're lucky enough to be in Louisville this weekend, check out this guide for the best places to dine. You can also learn how each Derby horse was named here.
[spacer]
TRACK
You may have noticed that Iconosquare recently monetized its analytic capabilities and it's not exactly affordable at $200 a month. Here are some inexpensive alternatives. (Edit: Iconosquare sent out an email on Saturday admitting that it may have been a little shortsighted to charge so much per month. They've gone back to the old version for now.)
[spacer]
LEARN
Hate to break it to you, but the croissant's origins aren't actually French. Learn more about the iconic pastry here because everyone loves a know-it-all at brunch.
[spacer]
WEAR
I'm on the hunt for a sexy lariat necklace. I love the length of this version.
[spacer]
CONTOUR
You're living under a rock if you haven't heard about contouring yet. I've been using the Clinique sculpting stick and this highlighter, but I kind of prefer the French approach to this beauty trend.
[spacer]
COOK
Fresh produce is the best part of summer. Make this asparagus and poached egg salad for brunch.
[spacer]
---