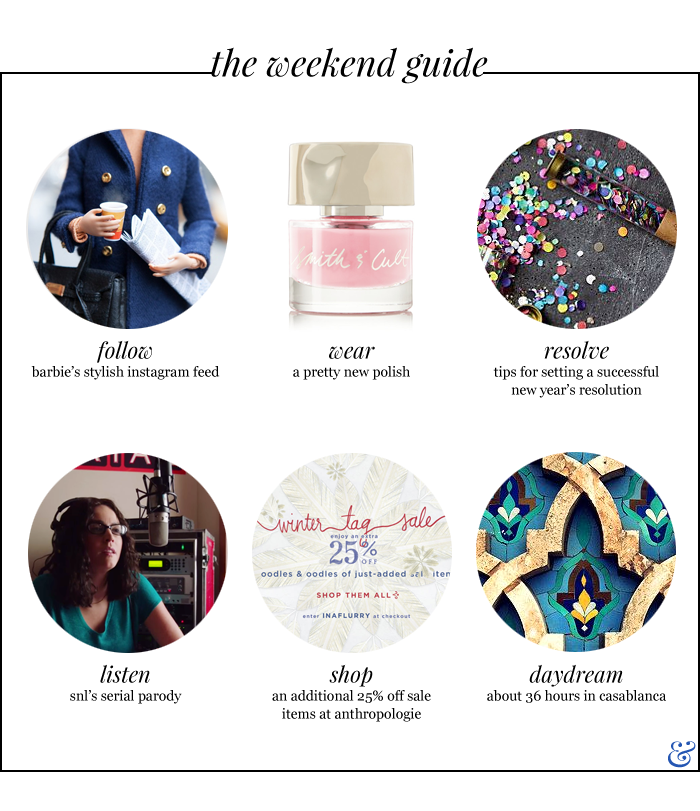 FOLLOW
If you're not already following Barbie's Instagram account, you should be. She's come a long way from the '80s ensembles I dressed her in.
[spacer]
WEAR
I know nothing about Smith & Cult's nail polish other than the bottle is really pretty. Has anyone tried it?
[spacer]
RESOLVE
I suspect many of us will be posting about our 2015 resolutions next week. Take a peek at this guide before setting your new year's goals.
[spacer]
LISTEN
We just finished binge-listening to Serial. SNL's holiday parody is a hilarious take on the phenomenon.
[spacer]
SHOP
You can take 25% off sale items at Anthropologie. I'm considering a few things to tuck away for next year's gifting season, like this fluffy owl and a set of perfumed soaps. (Speaking of sales, Nordstrom started its clearance sale, Tory Burch also has an extra 25% off sale items with code NEWYEAR, as does Rebecca Minkoff with code BYE2014.)
[spacer]
DAYDREAM
Thirty-six hours in Casablanca would be heaven. I don't think I'd ever leave the markets.