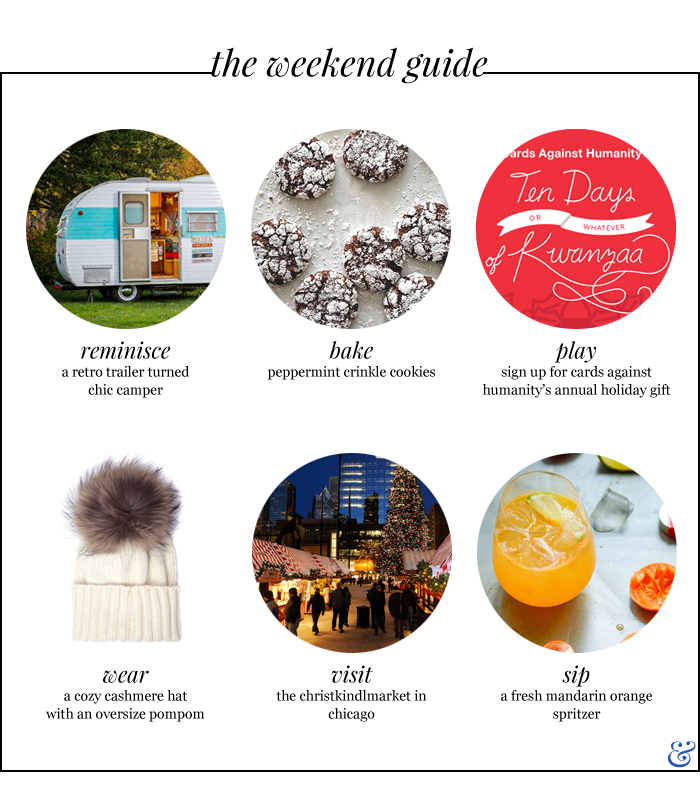 [dropcap custom_class="normal"]I[/dropcap] come across so many noteworthy things throughout the week that don't really fit in with my regular content. Instead of letting those links go to waste, I thought I'd share them with you in a weekend roundup of things to read, see, and do. I hope you'll also join in and share your must-sees in the comment section!
[spacer]
REMINISCE
I love how this couple transformed an old R.V. into a cozy vintage escape.
[spacer]
BAKE
The holiday season is in full swing and afternoons spent baking are on the horizon. I'm planning to try these peppermint crinkle cookies this year.
[spacer]
PLAY
Sign up for ten days of holiday gifts from the creators of America's favorite party game for horrible people.
[spacer]
WEAR
It's finally time to break out the cozy woolens. I'm fond of this cashmere hat with an oversize fur pompom.
[spacer]
VISIT
I let the holidays fly by last year without a trip down to Chicago for the annual Christkindlmarket. I'm not making that same mistake this year.
[spacer]
SIP
I picked up a crate of Mandarin oranges the other day and I don't think I'll be able to get through all of them before they spoil. I'll be juicing some of the leftovers to make this vodka spritzer.