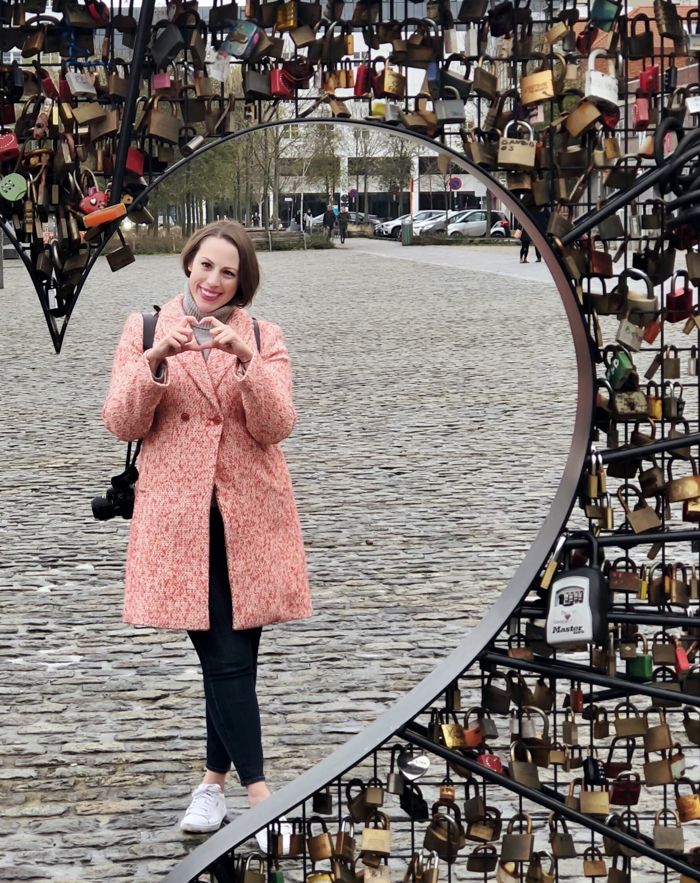 Goodness, a lot has happened since I last posted! On Black Friday, we left for an incredible trip to Belgium to kick off the holiday season — as you may have noticed on Instagram. I know I'm bad at recapping trips shortly after I get back, but I'm planning to post snapshots next week because no one is going to want to look at photos of holiday lights come January!
On a more sobering note, we had to say goodbye to Bacon last month. He was, unquestionably, the cutest cat I've ever met. We had a month with him since his cancer diagnosis. It was longer than we expected, which allowed us to be at peace when it came time to let him go. I'll spare you the details, but everyone was right: pet owners just know when it's time. We're doing okay overall, but my goodness, the house is so quiet now. I'm amazed that a 15-pound animal could make so much noise! There are so many times that I momentarily forget that he's gone and I expect to see him when I come home, which is the hardest part. We'll get another Bengal after we've had time to heal, but there's no telling when that'll be. We had this photo framed via Framebridge for the shelf in our bedroom and it's been a nice, subtle way to remember him. (It was my first time using them, so I was curious to know how the quality would be since I had only ever seen sponsored reviews of their products. It turned out beautifully! If you're looking for a personalized holiday gift, you can use this code to save 15%. In full disclosure, I'll receive a $15 credit if you place an order with it.)
There really isn't a good transition from that, so we'll just move on to some of the things I've spotted online recently to share with you:
I recently purchased this turtleneck sweater in two colors (emerald and light grey). As the name suggests, it is super soft. The material is substantial and it doesn't lose its shape during the day. I vary between a small and medium in J.Crew sweaters and went with a medium for this one, which is perfectly oversize. I wore the light grey one three times on our trip and just ordered another one just in case the first one gets ruined somehow — that's how much I love it.
If you're in need of an easy appetizer this holiday season, try goat cheese with honey, fig, and pistachios.
How homeownership became part of the American dream.
Paravel recently released carry-on suitcases. I'm in love with the white one with the black accent. I don't have a carry-on approved for the overhead bins of inter-Europe flights, which makes this one especially tempting. (That said, I have this carry-on and Dave has the smaller version. It's cheaper and his fits just fine on smaller planes.)
Your clothing may be telling others how competent you are, according to this study.
I shared this recipe for peppermint crinkle cookies years ago and it's worth sharing again because it's one of my absolute favorites. The recipe comes together easily and they get rave reviews. I'm going to make a few batches to drop off at our friends' houses. (I picked up these cute cookie boxes yesterday.)
I love Sweden's tradition of watching Donald Duck cartoons on Christmas Eve.
How to tackle uncomfortable family questions and conversations this holiday season.
These earrings are on my wish list. (Not like I need more jewelry…)
Finds Under $50:
–
Let's keep in touch!
Instagram / Facebook / Pinterest / Bloglovin'