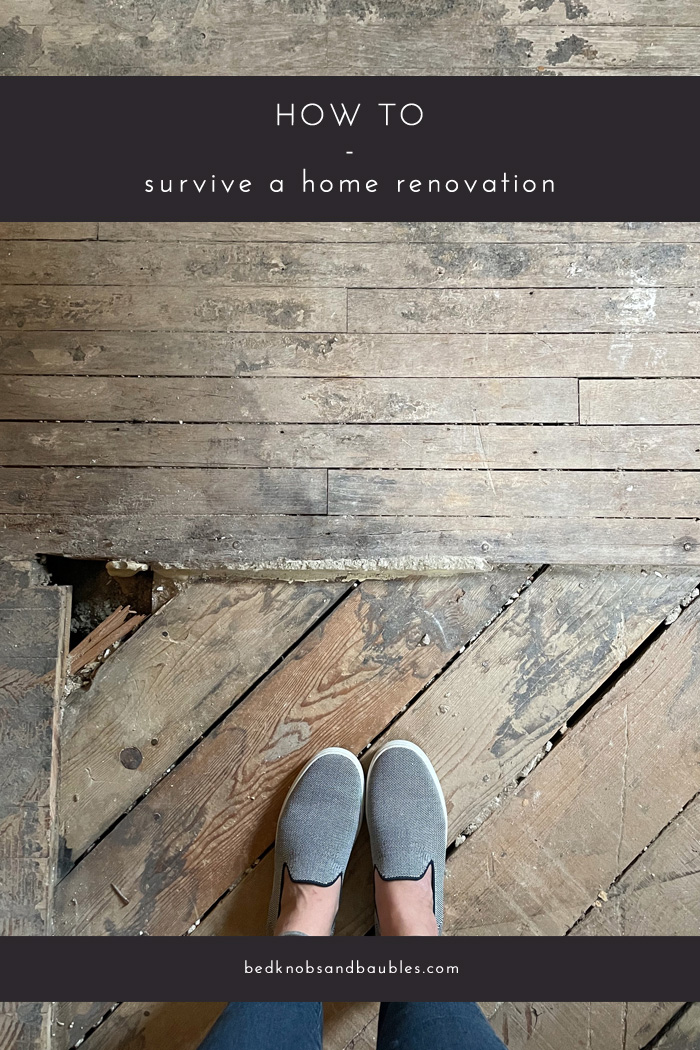 It has officially been five years since we closed on our house! It feels both like time has dragged on and flown by — and I think that has a lot to do with whatever stage of home improvement we're in at the time! 2022 has been our home's most transformative year yet with two bathroom renovations. I have a lot of emotions as a reflect back on the past five years: excitement, pride, frustration, annoyance, exasperation, appreciation … and so many more, but thankfully I've circled back to excitement and pride after we handed off our final check to our contractor and finally got to enjoy the end result of the projects that took so much time and money. Renovations aren't easy and I wanted to share five tips for surviving a renovation if you have one of your own on the horizon.
PLAN CAREFULLY
I can't overstate the importance of planning when it comes to your renovation, and it's going to impact all aspects of the project. Here are a few things to keep in mind:
Save more money than you think you'll need, and have a plan in place if your project creeps and goes beyond what you hoped to spend. We ended up getting a HELOC to allow for cushion when our project went 100% over anticipated costs.
General contractors are in high demand right now. Expect to book at least six months out.
While you're getting quotes from contractors, work on creating a mood board or source list for your project. (Here's mine for the main bathroom and the one for the powder room.) You'll want to have all of your products selected before work begins. While you'll have some wiggle room when nailing down things like paint colors, it's easier to have a solid direction right out of the gate.
Decide who is responsible for ordering products, materials, and fixtures. Is it going to be you or your contractor? For our project, I purchased the fixtures and our contractor was responsible for securing the other items. We had a shared Google spreadsheet to track my product selections, colors and finishes, who was responsible for ordering it, and where it was in the delivery process. Many products have a long lead time that you'll need to account for. Other items, like a bathtub or vanity, are oversize and heavy. Do you have a place to store it if you order it? Can you even move it to the storage location if the shipper leaves it on a pallet outside of your home?
Make sure all of our items are in-hand by the time your project begins. Construction takes a long time as it is and you don't want an unnecessary delay if something hasn't arrived in time.
Consider pet or child care. Demo day is especially loud and not the best environment for sensitive ears. Can you spend the day elsewhere?
If your bathroom or kitchen is under construction, plan how you're going to accommodate for those missing utilities. Do you have another bathroom you can use? Do you need a gym membership so you can shower? Do you need to find more slow cooker recipes so you can "cook" in another room?
Protect your home's surfaces, especially the flooring. We had our contractor put down X-Board surface protector on each surface the team would be walking on to protect our hardwood floors and stairs. We ended up having one ding on the floor where something was dropped, but managed to avoid any additional scratches.
Minimize Construction Dust
Everyone warned me about construction dust, but I had no idea how bad it would be until we were in the midst of things — and that was even with daily vacuuming by our construction team! Talk to your contractor up front about ways to mitigate dust. They will likely be putting up a plastic barrier, but there may be other things they can do. On demo day for our main bathroom, they put a filter in our window that blew air out of the house and we turned the furnace off to avoid having too much dust circulating. Keep doors to your other rooms closed and consider getting an air purifier for your bedroom (we have this one). Despite all of that, though, you'll have dust to clean up after your project is complete. Use that as an opportunity to do a deep "spring" clean, no matter what season it is! And, don't forget to change your furnace filter afterward!
Communicate Clearly
The success of your project is going to rely on your ability to communicate with your contractor about expectations, design, and timelines. Choose a contractor who has a communication style that matches your own. Our contractor was around our age and would text updates and questions, and had read receipts on so I knew when my own comments had been seen. He was also respectful and receptive to my thoughts and concerns when hiccups inevitably happened. I'd also urge you to check in with your contractor whenever you have a question about the process or if something doesn't seem like it's going how you expected. You're the client and you're paying a lot of money, so you should feel good about the work that's being done. It's easier — and oftentimes cheaper — to correct a mistake or change course when you first notice an issue than it is to wait.
Clear communication also extends to your relationship if you're embarking on a renovation with a partner. Renovations are inherently stressful with money concerns and routines upended — and you two might have different ideas of what's "good enough" if you hit a snafu. Recognize that your partner may also be overwhelmed and do what you can to empathize with them rather than misdirect any reno frustrations. You'll be a stronger team at the end of it!
Be Flexible
There will be hiccups along the way. There might be a product that's out of stock or an item you ordered that just won't work in your space due to what's going on behind the walls — or, in my case, the brand of tile you picked for your walls doesn't have a matching bullnose option and you have to figure out a new trim solution. Despite your best laid plans, something will come up that will throw you off course. Be nimble and open to your contractor's suggestions — and be willing and able to make decisions on the fly (or at least after sleeping on it). I know you might want to replicate your inspiration board to a T, but every house is different and has different challenges to work around. The longer you wait to make a decision, the longer the timeline gets and the more expensive the project becomes.
And, even if you're quick to change course, accept early on that the project will cost more than the quote. Save another 50% before beginning the work to allow yourself a cushion if it comes to that. If you don't need to spend it, you've just given yourself a sweet little vacation fund to celebrate!
Create Renovation-Free Zones
Create a space in your home that's free from renovation reminders — and renovation discussions. Your life is going to be chaotic during the process, so give yourself a refuge to mentally check out and enjoy your evenings!
Please leave any additional advice in the comments!
–
Let's keep in touch!
Instagram / Facebook / Pinterest / Bloglovin'
This post contains affiliate links.