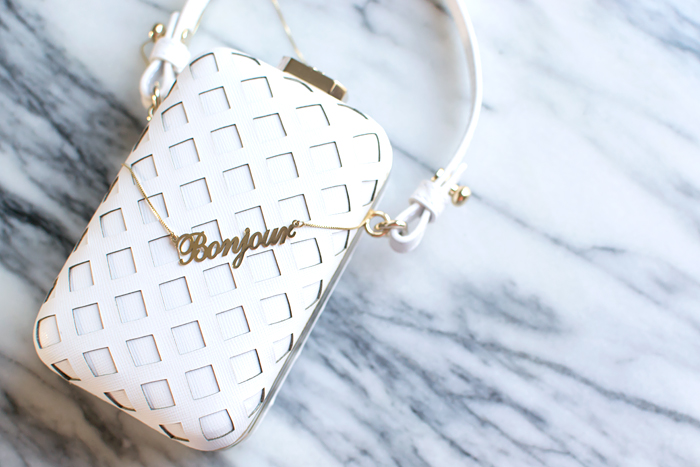 [dropcap custom_class="normal"]A[/dropcap]s style bloggers, it's far too easy to get wrapped up in the next purchase and the next curated wish list that we don't spend enough time appreciating the items we already own. It's a shame, really. Some of my favorite posts are by bloggers who write about an item and share what made it special, unique, or a recurring favorite in their lives. I wanted to do something similar and share snapshots of the items I've been lucky to welcome into my collection and the old favorites that are back in rotation, like the "Bonjour" necklace above. It was gifted to me last year by Onecklace and I wore it constantly for the first couple of months until it took a backseat to larger baubles. I wanted to wear it in Brussels, but I didn't think wearing a necklace that said hello in French (their native language) would be as cheeky as it is in the States!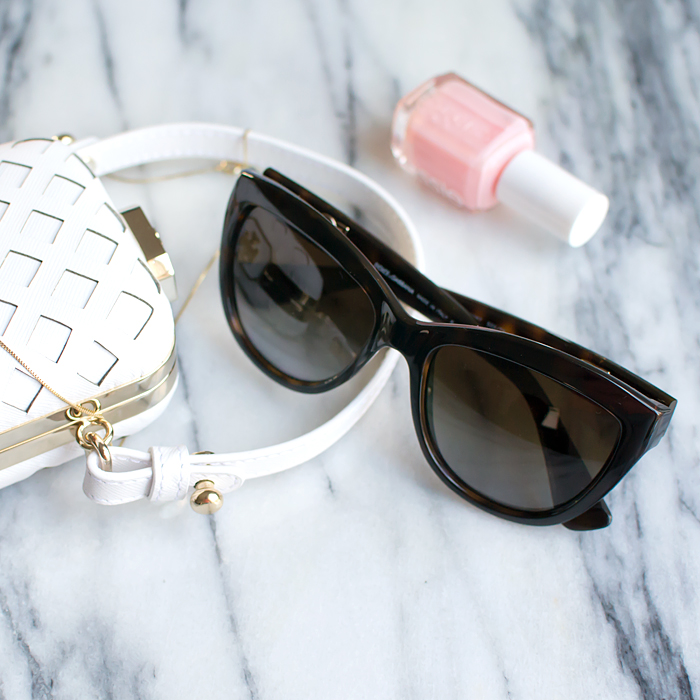 I'm really excited about this new addition: a pair of Dolce & Gabbana sunglasses courtesy of SmartBuyGlasses (worn in yesterday's post). I wasn't familiar with SmartBuyGlasses until this collaboration, but I wholeheartedly recommend them. There's a wide selection of designer sunglasses and eyeglasses to choose from and while I was tempted by the Celine selection, I went with this polarized pair instead. The size and shape are similar to the Prada sunglasses I bought last month, and they're $60 cheaper. (There's a black version here.) The shipping time is an estimated five to 11 business days, but my package arrived much quicker. It left Italy on Oct. 28 and made it to Madison just two days later.  Every order also comes with a complimentary lens kit with cleaning solution, a microfiber cloth, and an eyeglass repair kit. I just love those little extras that the experience feel special.
I treated myself to this Tory Burch beauty during the recent private sale. As I mentioned in my budget recap post, finding a great clutch always seems to be an afterthought when I have a special occasion coming up. (I can't tell you how many clutches I've purchased at the last minute and rarely use again.) So, I jumped at the chance to buy this white and gold minaudiere before we have a celebration that calls for it. The laser cut design is so pretty and I love that it has a strap that's more substantial than those chintzy chain versions. I know I mentioned it before, but I have no doubt this is going to be in my wardrobe forever. (That is, as long as Dave is fine holding my phone if I upgrade to an iPhone 6. The iPhone 5 fits snugly, but the clutch won't be able to accommodate the length of the newer model. Whatever. I usually have the phone in my hand to Instagram anyway.)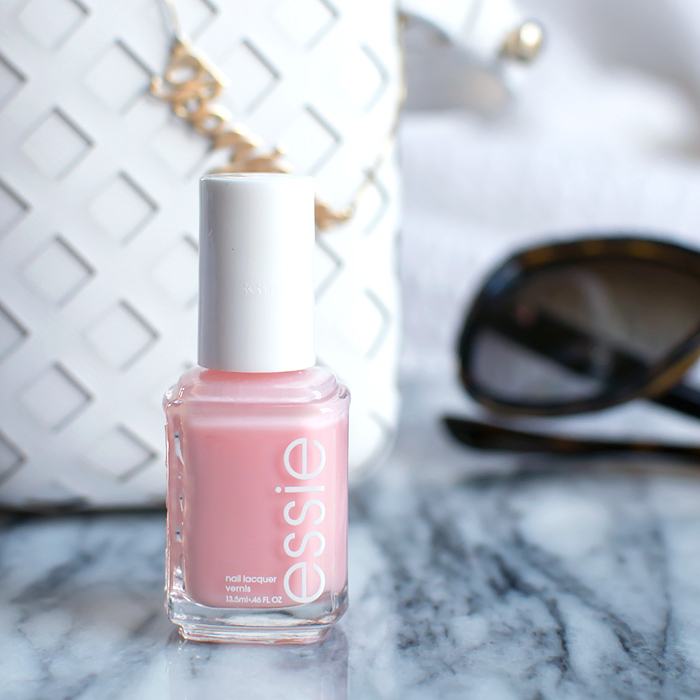 "Spaghetti Strap" by Essie is my favorite neutral polish. I know it looks like a rich ballet pink in the bottle, but it's actually quite sheer. One layer gives you a glossy nude polish and any chips a few days later are barely noticeable. Another thin layer starts to bring out the pinkness of the polish, yet the color remains understated and versatile.