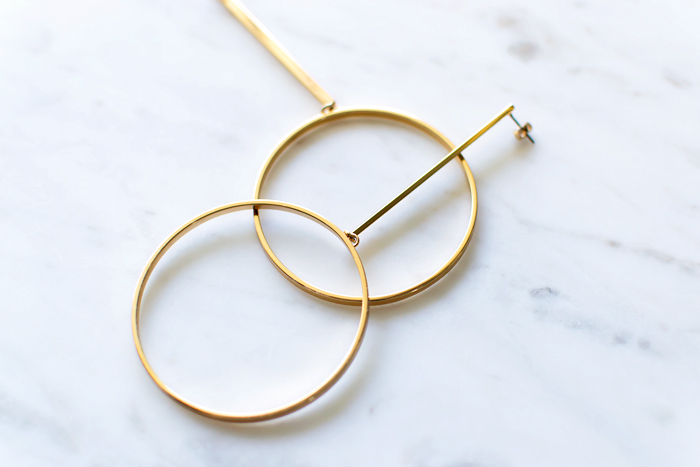 I was all about the budget buys this month with each item coming in under $100. This led to a sartorially scatterbrained month with items ranging from a tropical off-the-shoulder number I haven't yet worn to an ultra-girly dress that's not totally my style to a faux fur scarf I can't wait to wear this winter to a preppy button-down shirt I've donned at least a dozen times already. It's amazing to see how quickly those little purchases added up, though! I came in at $250, which is right on the money if my quarter budget was divided evenly over the three-month span.
I don't have any holes in my wardrobe I'm looking to fill next month. I do have this bag on its way to me (a steal with the extra 50% off, reward coupons, and a birthday discount code that brought the price down to a whopping $27). I'm also eager to try a few things from Ann Taylor, specifically this pair of heels, this top, and this skirt. I might finally add a Tory Burch Fitbit bracelet to my accessories collection now that this leather-wrap bracelet is on sale for $68.
BUDGET*
Summer Budget (June – August): $750
Spent in June: $250
Added: $0
Amount Remaining: $500
Winter Budget Recap: December, January, February
Spring Budget Recap: March, April, May
*I don't add money for tax and shipping into my budget, nor do I add athletic clothing or sleepwear. Most of the money I earn from the blogging goes into my general savings account or is earmarked for travel, but I'll move some to the clothing budget when needed.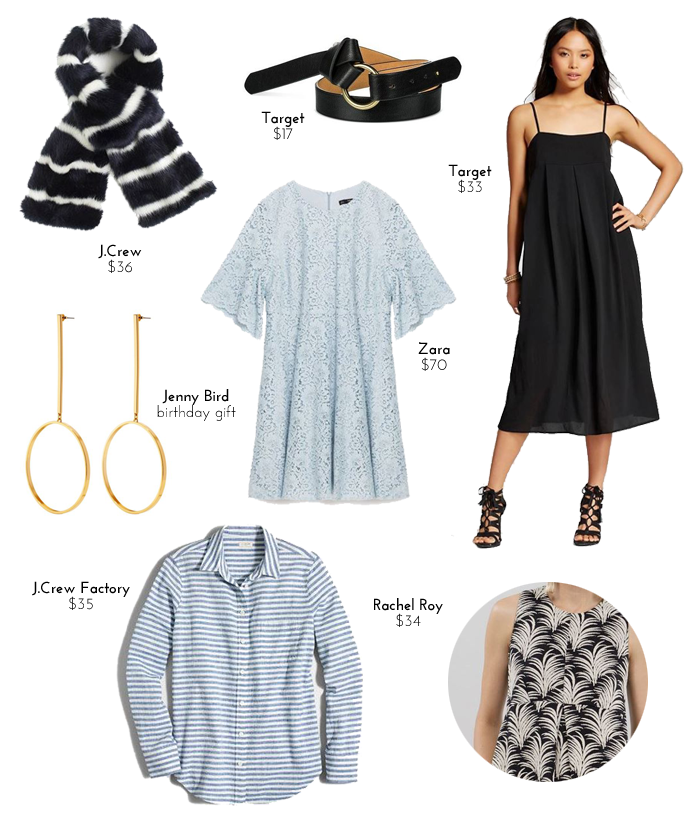 PURCHASED
See all of the year's wardrobe additions here. 
DIDN'T WORK OUT
Things I tried and didn't love: 
dRA "Henriette" dress ($92): Oof, this thing was dumpy on me. The bust was tight (and I don't have much to fill it out to begin with), the baby-doll waist was too high, and the extra fabric around the waist made me look pregnant. Now, let's pretend the fit was great. Would I have kept it then? Nope. The quality was pretty bad for $92.
ASOS floral skater dress with contrast tipping ($62): I thought the background of this dress would be more of a pink hue, but it was a weird tan color instead. That said, the cut of this dress is incredibly flattering. It's made of a stretchy knit fabric, so you could go down a size.
Betsey Johnson lace trim cotton tunic dress ($148): This looks like a nightgown or, as Dave pointed out, a grandmother's tea cozy. Don't do it.
Zara guipure lace dress in white ($70): The lace on this dress is gorgeous! The waist seam and halter-cut top are both flattering. The only drawback is that the lining of the skirt is incredibly tight on me. I didn't love it enough to take it to the tailor to see if they could add triangle insets to the sides of the lining so that it didn't keep riding up. It's definitely worth checking out if you're placing an order or swinging by a Zara store, though.

***
linking with Fran