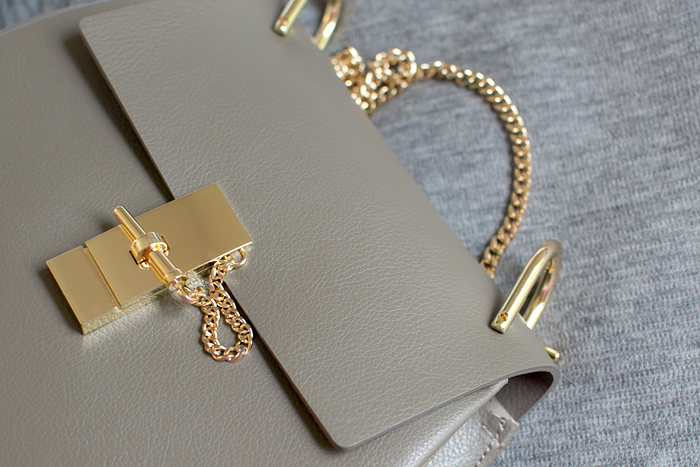 OBSERVATIONS
For me, summer is all about loose, gauzy dresses. They're pieces you can skimp on because the fit is so forgiving, but that usually leads to sartorial gluttony. I mean, when you can stay on budget and have a closet full of new dresses, why not?! Now that I'm starting to transition to fall purchases, I noticed a significant shift in the way I select items. I'm paying closer attention to construction, fabric, and fit. That comes with a higher price tag, leading to fewer new items. On one hand, I thought I'd be bummed about this. Having fresh pieces to wear is a lot of fun! But, truth be told, that much accumulation is overwhelming. I'm eager to make more mindful purchases this season of quality basics and worthwhile statement pieces. I'm also turning to my closet to create a list of "missing links" I'd like to find. Normally, I get distracted by a retailer's new arrivals and start adding items to my wish list without much thought. Doing so leads me to neglect the items I need to make the rest of my wardrobe functional. Next month, I'd like to find a wool (or heavy crepe) black a-line shift that falls a couple of inches above my knees. I'd like it to be sleeveless with a crew neck so I can layer shirts underneath. I want it to look great with flats or ankle boots and be a canvas for a large pendant necklace. That can't be too hard to find, right? I also had "statement outerwear" on my fall wish list this year. I ordered the J.Crew wool cape earlier this week. Fingers crossed that it fulfills that wardrobe hole. I already have a bright coat in emerald green and a black peacoat, so I should be set for outwear this year if this indulgent piece works out.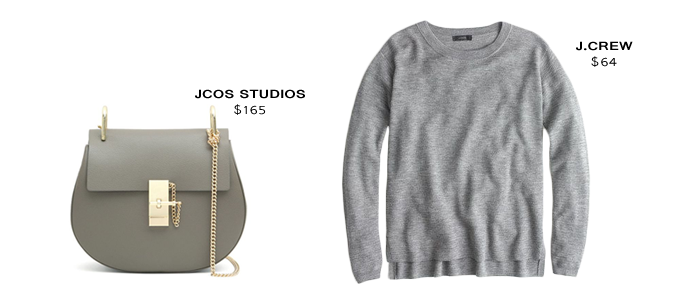 PURCHASED
JCOS Studios messenger bag with lock in mud ($165): Be prepared for a long wait for the arrival of this bag. I ordered it on July 29, it shipped on Aug. 21, and arrived on Aug. 25. I was afraid I'd fall out of love with it by the time it came, but I was pleasantly surprised by the quality of the bag. The stitching is even and the hardware feels sturdy. I'm planning to write a full review  after I've had a chance to use it for a few weeks. Just let me know if you have any questions in the meantime, though.
J.Crew merino wool pullover sweater in heather graphite ($64): You already know how much I love this. I went with my regular J.Crew sweater size. The sleeves in an XS fit best, but I preferred the drape of the size small.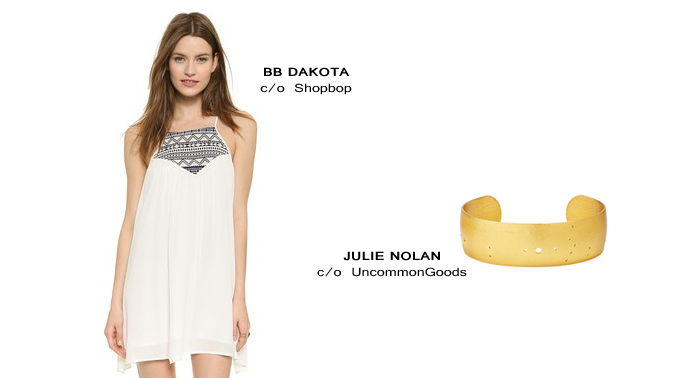 GIFTED
As always, I want to be transparent about what I've received from companies for review or as part of a collaboration. I'm selective about the pieces I accept and will only work with companies I feel good about recommending.
BB Dakota "Bronwen" dress c/o Shopbop: I'm crazy about this dress and I'm antsy for the weather to improve so I can actually wear it! I originally ordered it in a medium and large. The large was huge, which I kind of expected. The medium fit well on top, but had a stain on the front. It was worth the wait for an unscathed version to arrive a few days later! It's fully lined, looks great against sun-kissed skin, and will only run you $50.
Julie  Nolan astrological cuff c/o UncommonGoods: I like the idea of astrological jewelry, but it can get tacky awfully fast. Julie Nolan's bracelet has subtle cutouts of your sign's constellation for an understated piece of personalized jewelry. You can see it on me here.
DIDN'T WORK OUT
Of course, with every successful shopping month, there are some misses:
See all of the year's wardrobe additions here.
***
linking with Fran