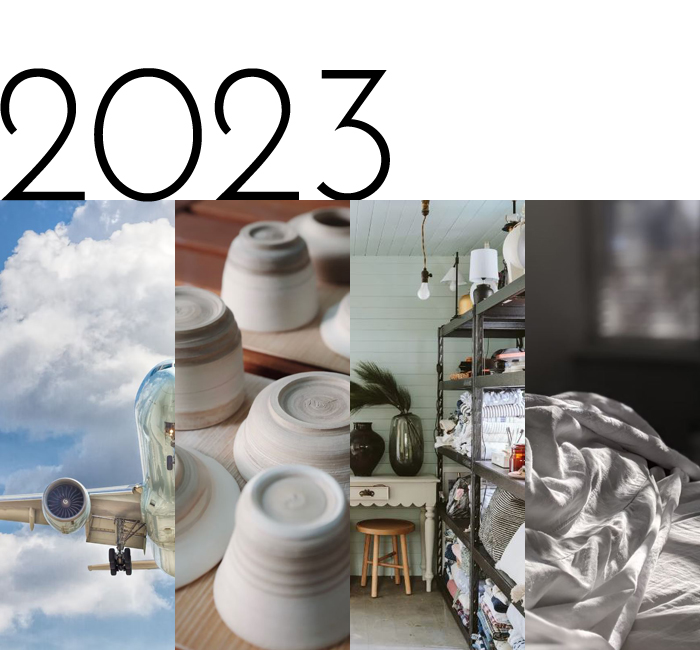 We're a couple of weeks into the new year, but it hasn't exactly been a slow start. Last weekend, we drove to Michigan and welcomed this darling little cat to the family. I saw her Petfinder listing on New Year's Eve and immediately sent the link to Dave, intending to submit an application the next morning. By then her listing was already removed due to too much interest and my heart just sank, but I sent an inquiry regardless and received a response within a few minutes. The agency was sifting through applications, hoping to find someone with prior Bengal experience, and it so happens that we were the perfect fit for the little lady! She's such a sweetheart and was a champ during the six-hour drive home. It's been so wonderful to have a cat around again, not to mention incredibly fun to discover her little quirks. (The little chirp she makes is the cutest!) Naming her was my first priority for 2023 and we chose Lily. You can follow her Instagram here. Here's what else is on deck for the year:
TRAVEL SOMEWHERE NEW
It's my perennial resolution, but it's one that brings me so much joy! We don't have anything booked for the year yet, but that'll change soon. We had purchased the United Economy Plus annual subscription before our trip to Europe last year, so we need to get more use out of that investment before it expires in July. A ten-day stint abroad in June sounds pretty enticing!
PRIORITIZE TIME FOR HOBBIES
Last year, I began taking pottery lessons and absolutely fell in love with it. It's so satisfying to take a lump of clay and transform it into something useful — even if it's just a slightly wonky bowl. I'd like to continue taking classes and sign up for a studio membership this year when an opening comes available. I'm excited to see how my work will progress with more practice on the potter's wheel.
Additionally, I'm growing fond of gardening. Last year, I was successful with tomatoes and habaneros. This year, I'm going to expand my little urban garden and install a raised bed. Vegetables aside, I planted a lot of perennial plants last fall and I'm eager to see what comes up in the spring. I'd like to start defining some areas of our yard with plants. I'd say "landscaping," but I don't want to give you the wrong impression and suggest that my skills are anything other than beginner!
SPEND LESS, SAVE MORE — AND PARE DOWN IN THE PROCESS
This is a holdover from last year, but one worth repeating. We have boxes in the basement that we haven't opened since moving in five years ago. We desperately need to go through everything, donate what no longer suits us, and get organized. And with that, be thoughtful about what comes into the house. Not only is it a more sustainable way of living, everything needs to go somewhere and anything we purchase needs to be amazing enough to justify the space to house it. Spending less will also help me with my goal of putting 20% of my take-home pay into savings this year. (I had been saving 10% of my monthly income and I can finally bump it up now that my student loans are paid off.)
TACKLE A FEW HOME PROJECTS
As I shared here, our next project is to revamp our bedroom. It's fine as it is, but it's just that. Fine. I want our bedroom to be a space we look forward to spending time in; and it wouldn't hurt if it looks like it belongs in a Schoolhouse ad. I'd like to replace the bed (we actually had it delivered this week!), repaint the accent wall, install curtains, swap out the lamps, and add more art. We'd also like to find a vintage dresser, but that's less of a priority as it'll be more difficult than sourcing the other items. Then, we'll start working on the guest room. Right now, it's painted, a new light fixture is installed, and we have a dresser. However, it's not much of a guest room without a bed! On the first floor, I'd like to purchase a cabinet for our dining room to store our serving pieces and glassware. Preferably one with glass doors, so we can get a glimpse of what's inside.
–
Let's keep in touch!
Instagram / Facebook / Pinterest / Bloglovin'
Thanks for visiting! As a reminder, I may earn an affiliate commission if you buy an item through my links. This is at no cost to you. I appreciate your continued support!