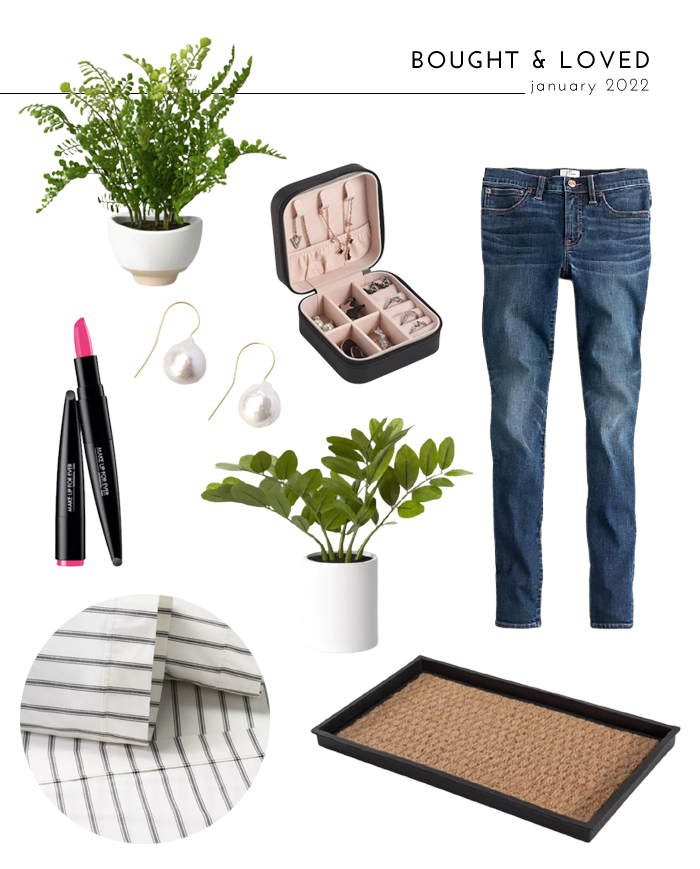 I love how a new year feels like a fresh slate and this month's purchases were a reflection of that as I got back to the basics filling a couple of holes in my wardrobe with classic pearl drop earrings and a pair of non-cropped jeans. This month's household projects desperately yearned for spring with some faux greenery and new sheets, and that boot tray is a long overdue need to keep our floors protected from salt and melting snow. As always, you'll find the links below along with product reviews and additional commentary.
WARDROBE
See this year's sartorial additions here.
Chan Luu baroque pearl earrings in grey ($81; join their email and SMS list for a discount code) – These are more grey in person than they appear online. If you'd rather have a white pair, click here. They're beautiful in person, and they nail that traditional-meets-modern design.
J.Crew 8″ Toothpick Jeans in 'Vista' ($90) – I had one pair of jeans that fit and they were cropped, which wasn't exactly great for a Wisconsin winter. After trying on three other pairs of jeans (and this pair in two sizes), I finally found one that fits and I feel good in. This pair hits me right at the ankle and I ended up with my regular size.
HOUSEHOLD
Threshold small faux maidenhair fern ($15) & Threshold small faux ZZ plant ($15) – Target is knocking it out of the park this season with its selection of faux plants. I picked up the fern to put on the bottom shelf of our entryway table, atop of stack of books. We don't get much sunlight there so most natural plants (at least those that are pet-friendly) would perish. This is a wonderful alternative that adds a cheerful dose of lifelike greenery. I put the ZZ plant on our desk. We have a couple of large real ZZ plants that Oliver doesn't bother, but I didn't want to tempt fate and poison our little dude with a tabletop one.
Anji Mountain rubber boot tray with coir insert ($31) – Hey, I'll be the first to admit that boot trays aren't pretty, but this one isn't bad! Plus, it's practical! The coir insert is removeable so you can shake out any accumulated dirt and debris. I bought the small size, which is perfect for two pairs of winter boots.
Hearth & Hand ticking stripe sheet set ($65) – While soft, these aren't nearly as wonderful as our splurge-worthy linen sheets. However, I thought a set of striped sheets would be cute with our floral duvet cover. It is. Plus, it's always nice to have another backup set in the linen closet.
MISCELLANEOUS
Casegrace travel jewelry box ($9) – Gone are the days of tucking my jewelry into plastic sandwich bags when I travel! You can see more photos of this practical — and affordable — jewelry case here.
Make Up For Ever Rouge Artist Lipstick in Fierce Flamingo ($23) – I'm a sucker for pink lipstick and this one is even more vibrant than the shade I typically wear. It's a fun infusion of color and a shot of dopamine I desperately need in the middle of winter. It's a bit drying, though, so I can't wear it for more than one day at a time to allow my lips time to recover.
–
Let's keep in touch!
Instagram / Facebook / Pinterest / Bloglovin'
This post contains affiliate links.