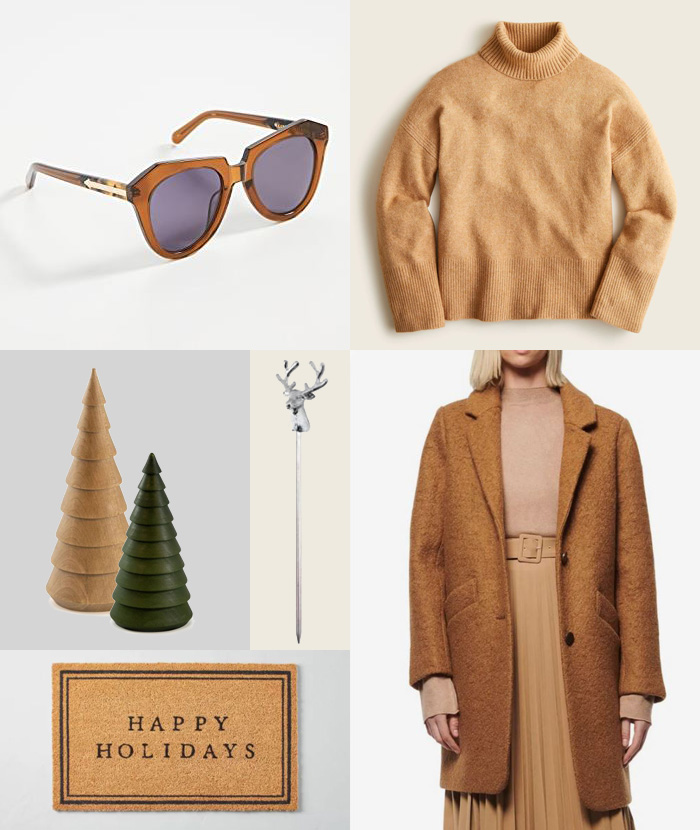 In addition to the items below, I had ordered two items from J.Crew that were huge misses: this dress that ran small in the bodice despite the smocked back (plus, the quality did not warrant the price tag); and this blouse that was the most unflattering shape on me. Oh well, they can't all be winners, right? Here are the items that made the cut this month:
IN THE WARDROBE
See this year's sartorial additions here.
Karen Walker 'Number One' sunglasses in tan/gold – I have these sunglasses in black and tortoiseshell and they remain my favorites, so adding another color when they were on sale seemed like a worthwhile investment in my sunglasses wardrobe.
Marc New York 'Paige' boucle coat in camel (also available here) – My goal to lose weight this year was largely unsuccessful and I needed a heavier-yet-dressy coat that I could wear this season. This one has a flattering, classic shape and runs true to size. I can't attest to how warm it is yet, but I was comfortable in it for a long walk with a sweater underneath in 30-degree weather. (I had also tried this coat from the same brand. It's longer and I preferred the pocket placement, but I was between sizes. The medium was too small to wear with a sweater and I was drowning in the large.)
J.Crew supersoft turtleneck sweater in camel – This was my favorite sweater for two years running, but J.Crew reworked the shape and added vents on the sides making it a lot less flattering than it used to be. It's still incredibly comfortable, which is the only reason I kept it. However, if you loved the version from the last couple of years, this isn't it.
AROUND THE HOUSE
Reindeer cocktail picks – I randomly came across these on Amazon and it was a quick add-to-cart moment. They're so darn cute and are good quality.
Wood Christmas trees – I found these on Etsy when I was looking for a few Scandinavian-inspired Christmas decorations for our office bookshelf. I bought a large one in natural and a smaller one in green. They're absolutely darling in person and perfect for an understated holiday touch.
Happy Holidays doormat – I impulse purchased this doormat at Target and for $13, it's perfect!
–
Let's keep in touch!
Instagram / Facebook / Pinterest / Bloglovin'
This post contains affiliate links.