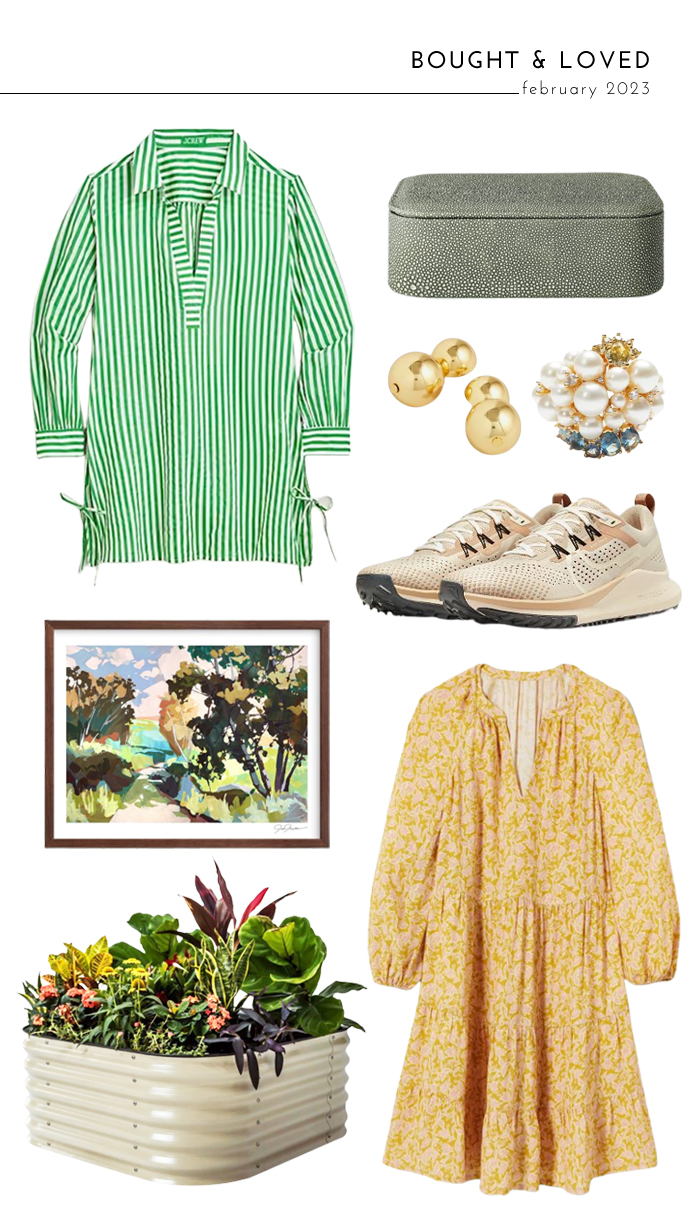 Goodness, I may have been too busy to blog and make an appearance on social media last month, but I certainly made time to shop. I thought I'd continue into 2023 as picky and streamlined about my purchases as I was in January — and it was true for the most part with items that I'm enamored with — but I was definitely less conservative about adding things to my cart.
As I alluded to in this post, we're also making strides in giving our bedroom a bit of a facelift. I'm not adding those purchases in these roundups and will plan to do a full post once I share photos of the room.
WARDROBE
See this year's sartorial additions here.
HOUSEHOLD
Vego raised garden beds in 'pearl white' – I've toyed with the idea of raised garden beds for a couple of years now and finally took the plunge with a couple of these 2′ x 5′ beds. I had a lot of success with tomatoes and habaneros last year, and I'm eager to expand my little garden this spring!
Art print by Jess Franks – This print reminds of me vintage paint-by-numbers and I just love the color combination the artist used. I bought this for our half bath, meaning it's finally time to take and post reveal photos — just a year late!
Target faux shagreen box – I have a difficult time staying focused when my workspace is messy and this impulse buy was just the thing to corral miscellaneous clutter on my desk at home.
–
Let's keep in touch!
Instagram / Facebook / Pinterest / Bloglovin'
Thanks for visiting! As a reminder, I may earn an affiliate commission if you buy an item through my links. This is at no cost to you. I appreciate your continued support!