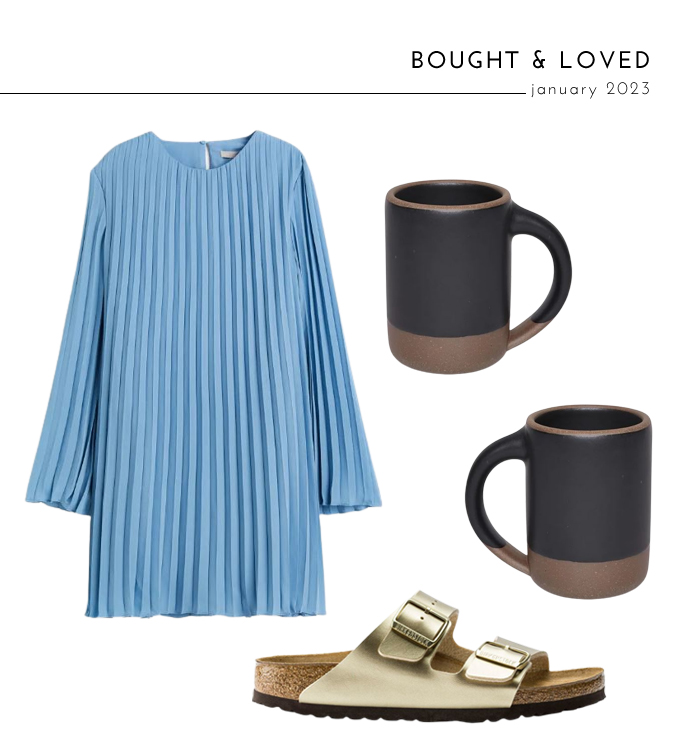 I'm kicking off the year staying true to the "fewer better things" mantra with just a handful of purchases that earned their spot in our home. I'm enamored with each of these, but especially the mugs. I look forward to using them every morning for our mid-morning latte break! We bought this Breville espresso machine during the pandemic. It was well worth the investment and makes working from home a lot more enjoyable.
If you've had an East Fork pottery piece on your wish list, you can use this link to receive $20 off your first purchase. There's no minimum purchase for the $20 discount. (And, nope, I don't receive a commission or anything on this. It's a fun program they have to spread the love for their ceramics!)
WARDROBE
See this year's sartorial additions here.
H&M pleated dress (worn here) – This is such a fun dress and looks a lot better in person than it does on the model. You'll want to buy your normal size so it fits correctly at the shoulders. I wore it to an event last week and received a ton of compliments.
Birkenstock 'Arizona' sandal in gold – I still think it's crazy that Birkenstocks went from being reserved for the most "granola" of people to earning a spot in every fashion-forward person's wardrobe. I've always liked the gold "Arizona" slide on other people, so I figured I'd give them a whirl this year given how often I wear my other Birkenstock sandals.
HOUSEHOLD
East Fork mugs – I love our new mugs! They're beautiful and an absolute joy to use for our lattes in the morning.
–
Let's keep in touch!
Instagram / Facebook / Pinterest / Bloglovin'
Thanks for visiting! As a reminder, I may earn an affiliate commission if you buy an item through my links. This is at no cost to you. I appreciate your continued support!