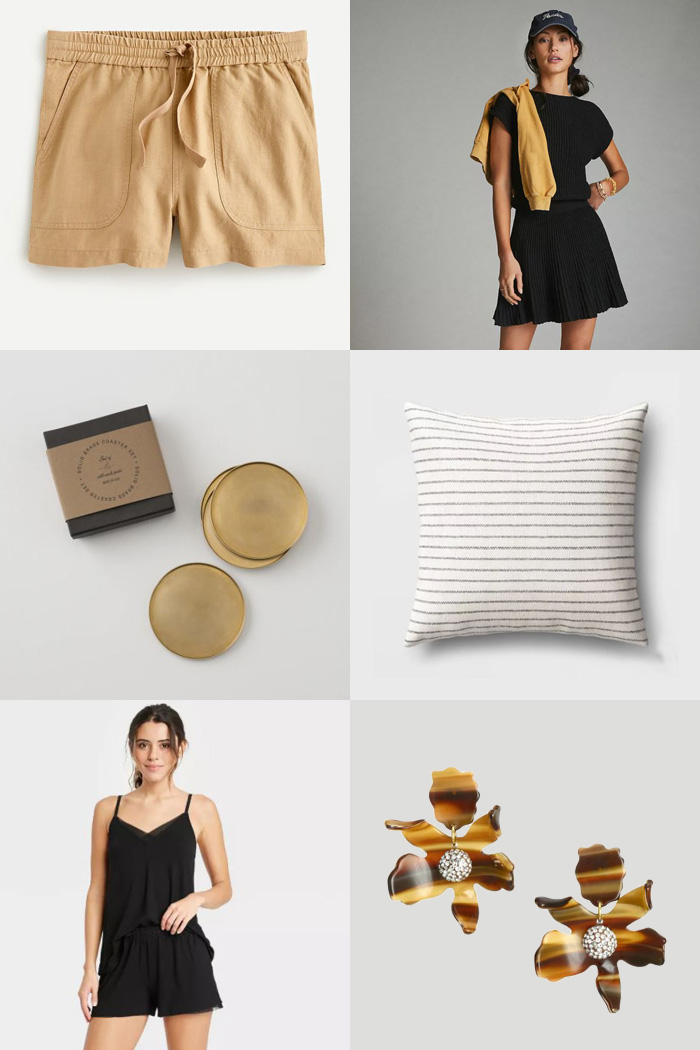 As I was putting together this post, I was pleased at how minimally I shopped in March — only to realize that it's because my other orders haven't yet arrived! (Or just got lost in the mail entirely, as was the case of an Old Navy order that included the pink now-sold-out blouse in this post.) The one I'm most excited about is this lamp! It's either going to serve as an entry lamp, or I'll spring for a second and use them as our bedside lamps. Either way, I can't wait for it to arrive!
IN THE WARDROBE
See all of this year's sartorial additions here.
AROUND THE HOUSE
Schoolhouse brass coasters – We already have a set of these, but since one permanent lives in my work-from-home space and one in Dave's, we added another set to the living room. If you prefer perpetually shiny brass, these aren't for you. But if you're a fan of patina, consider buying a set.
Target striped throw pillows in black and cream – I purchased a set of linen striped throw pillows last spring for our living room, but they get so wrinkly that they're better suited for the bed where they're not being squished constantly. I went with these $20 throws as substitutes. They have a zipped opening for the insert, which is rare at that price point. The tags are also inside the cover, rather than being stitched on the outside, so you don't have those stupid pieces of paper on the edge of your pillow that so many cheap pillows have. (They always look bad no matter how closely you cut them!)
–
Let's keep in touch!
Instagram / Facebook / Pinterest / Bloglovin'
This post contains affiliate links.