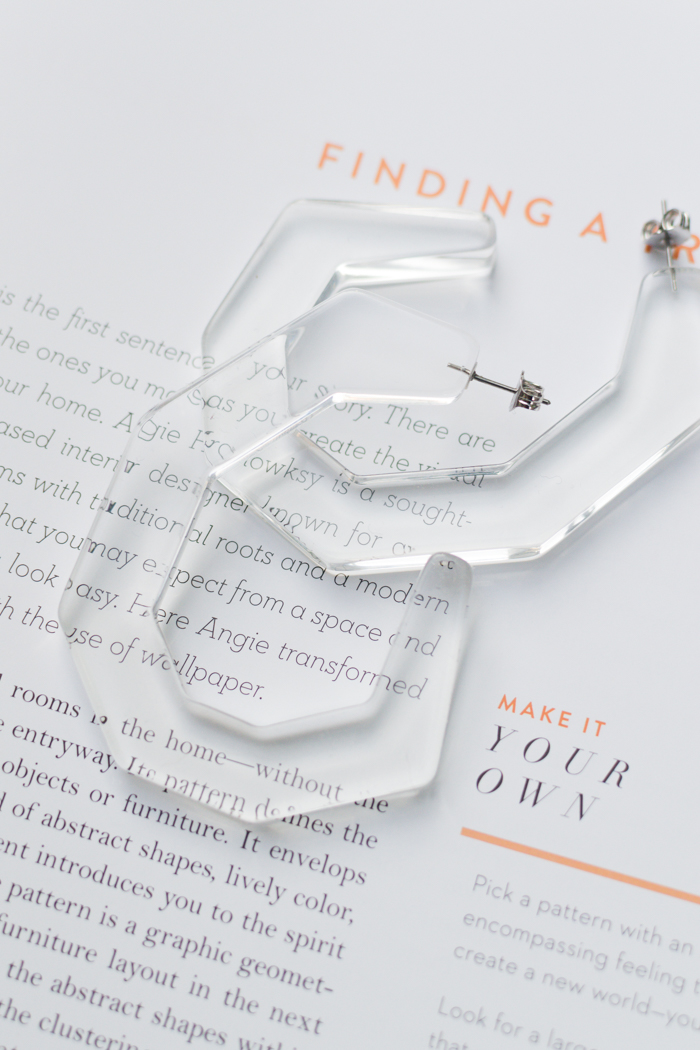 Recently I had been putting any blog money I earned toward house projects and purchases. Those things can add up quickly and I'm so fortunate that I've been able to add extra money to my bank account by way of this hobby. This month, though, I spent some of that money a bit more irresponsibly. I had been obsessing over these earrings ever since I featured them on March 20. I hemmed and hawed over purchasing them because, well, they're plastic and it's a lot of money to spend on a pair of acrylic earrings. I'm so glad I went for it, though! They're such statement makers in person despite being clear. Plus, they're so much fun to wear! It was money well spent.
TOTAL SPENT: $337
(Budget: $200; $4 subtracted from last month; $141 over budget, but I had plenty of blog revenue this month to cover it)
PURCHASED
See all of this year's sartorial additions here.
DIDN'T WORK OUT
Things I tried and didn't love.
Madewell butterfly top in sherbet stripe – I love the colors of this top, but it was much too short and the hem was curved. Whenever I lifted my arms, the shirt rode up to expose my torso. Pass. (Also, it feels like upholstery fabric. I'm still not sure if I liked that or hated it.)

–
Let's keep in touch!  Instagram / Facebook / Pinterest / Bloglovin'