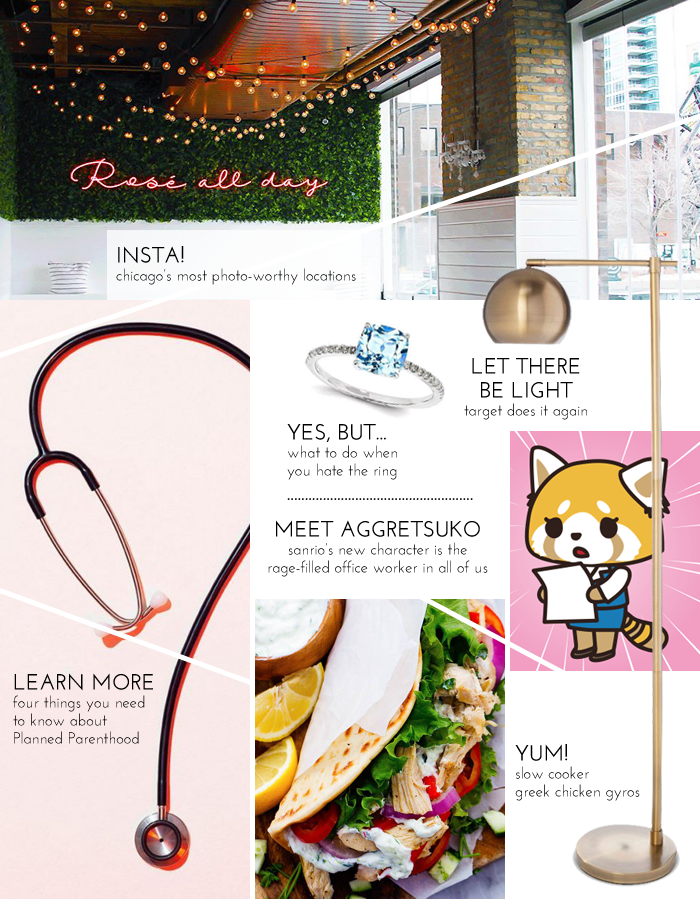 INSTA: The next time you're in the Windy City, make it your mission to check out a few of these Instagram-worthy locations.
LEARN MORE: This week, Hitha wrote a wonderful post about how Planned Parenthood works and shared four things you need to know about the health care provider.
YES, BUT: What happens when you're excited to marry the love of your life, but the ring isn't up to par?
LET THERE BE LIGHT: I need this brass floor lamp in my life. While home purchases aren't prudent until we buy a house, I'm sure we'll find a spot for this beauty. (Here, Target, take all of my money. Again.)
MEET AGGRETSUKO: I've always had a soft spot for Hello Kitty and other Sanrio characters. The new office-working red panda, Aggretsuko, just might be my favorite one yet.
YUM: Not only do these chicken gyros look amazing, they're easy to prepare in a slow cooker. Make a big batch and bring it with you to the office for lunch next week.
IN CASE YOU MISSED IT: