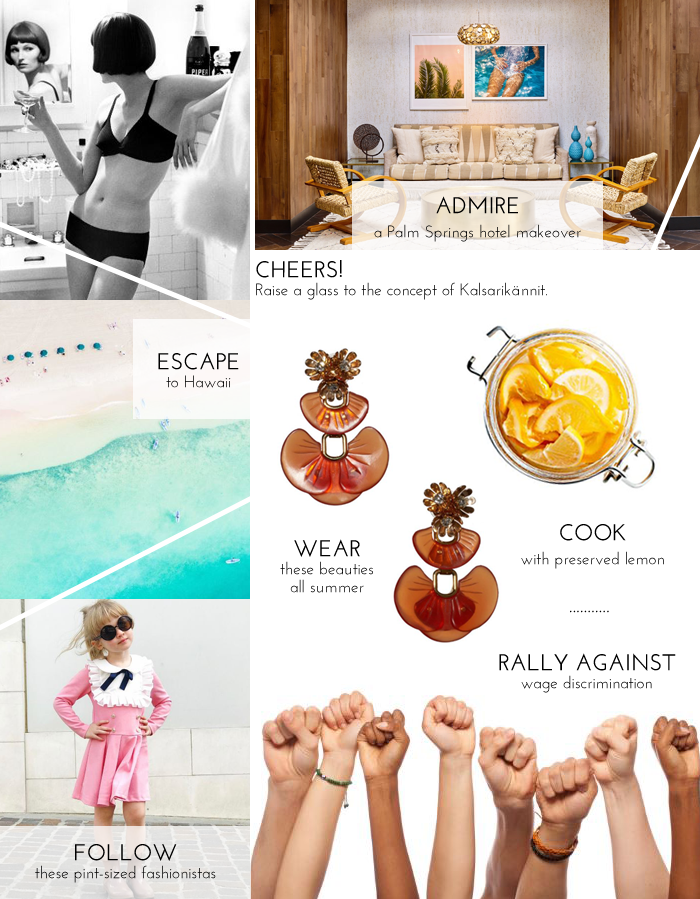 We're off to Chicago today to see Hamilton! We're spending two nights in the Windy City, which means that we'll also get to see the river dyed green on Saturday for early St. Patrick's Day festivities! Follow the non-curated, non-filtered version of our weekend away (and our upcoming New Orleans trip) on Snapchat! My username is bedknobsbaubles.
ADMIRE: The Riviera Hotel in Palm Springs received an Instagram-worthy makeover.
CHEERS: Move over hygge and make room for kalsarikännit, the Finnish concept of drinking at home alone in your underwear.
ESCAPE: I'm crazy about Gray Malin's latest series from Hawaii. (This one is my favorite.) Read his travel guide here.
FOLLOW: I'm sorry, but these kids are more fashionable than you will ever be.
WEAR: I'm a sucker for Lele Sadoughi's jewelry and I've got my eye on these earrings. Now to decide between amber and white…
COOK: Make quick preserved lemons overnight and then use them in these nine dishes.
RALLY AGAINST: Carrie wrote a poignant post about the realities of wage discrimination.
IN CASE YOU MISSED IT:
ON MY WISH LIST: