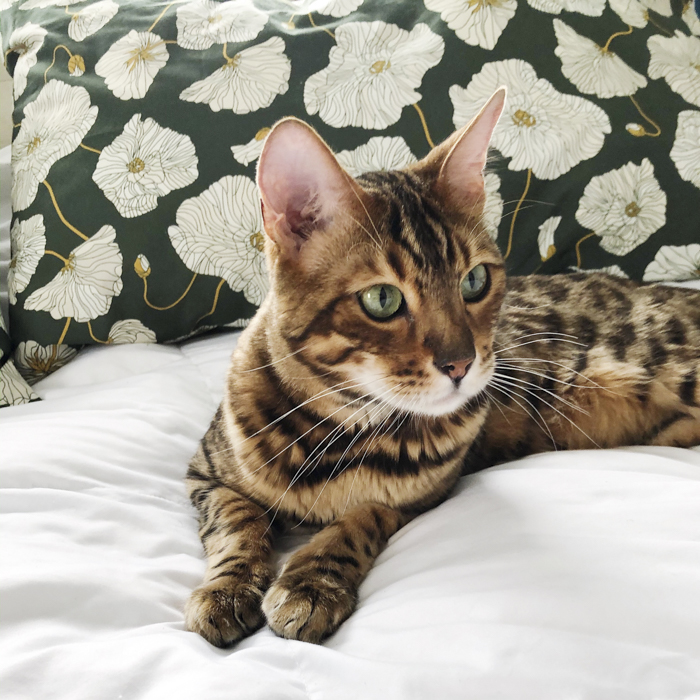 If you're following along on Instagram, you'll know that we introduced this little leopard into our lives last week. Oliver is a five-year-old Bengal that we adopted through Great Lakes Bengal Rescue. He was surrendered because he was too aggressive with other pets in the homes that he was in previously. It's a shame that it's taken him so long to find a house where he can be the king of his castle because he's gorgeous and so much fun to have around. He has the characteristic spots of a Bengal (Bacon had the marbled coat), his fur glitters in the sunlight, and he's just so soft. We joke that his mother may have actually been a rabbit or a chinchilla. His independent spirit and intelligence is really what's winning us over, though, even if we have to hide his treats so he doesn't tear open the bag at night! He's definitely still warming up to us and his new home, but he's getting more affectionate each day. It's really fun getting to know each other. 🙂 And without further ado, the Weekend Roundup:
Is Banksy a historically significant artist?
I spotted these patio chairs at Target last weekend. I'd snag a couple if we had room for them!
You can use chalk paint to upcycle old vases.
A cultural history of the wire hanger.
Love is Blind on Netflix is absolute trash, but also weirdly addicting. (The first couple of episodes are pretty boring as people pair up. The drama picks up eventually.)
This floor mirror is so good.
I love this art series by Jiro Ishihara. The acrylic-mounted photographs look like airplane windows.
Tips for removing dried paint from wood trim.
Finds under $50:
In case you missed it:
–
Let's keep in touch!
Instagram / Facebook / Pinterest / Bloglovin'