Not surprisingly, there were a fair amount of purchases while I was on my blog hiatus that I didn't share. For home, there were deck lights, a grill, a cute wood box, a side table that's on backorder, a vase, a surprisingly chic doorstop, and a vintage brass tray that looks like a patinaed version of this one. All in all, a good few months on the home front! Wardrobe purchases were more modest with a sweater, sneakers that are no longer available, my first foray into the headband trend, a formal dress, and a few workout items from Athleta and Target. (I'm obsessed with this hoodie that I bought in navy.) It was actually kind of refreshing to step back from the blog — and the pressure of always scouting out new items — and just enjoy what I already owned with just a few things sprinkled in to keep me from being bored!
PURCHASED – FOR ME
See all of this year's sartorial additions here.
Madewell ruffle strap polka dot dress (available here, here, and here) – I was trying to get through summer without purchasing many new items, since I do love what I already own for the season. But the truth is that I was getting bored and craved something new to add into the rotation. (Plus, I gained weight in Portugal that I haven't lost yet and some of my favorite dresses and my favorite wigs just didn't fit. Oops.) I bought this in my typical Madewell size and absolutely love the lightweight material and fit. It's on the verge of being too large, but the buttons pull a little without a safety pin for modesty and a smaller size would have left too much gaping between them when I moved.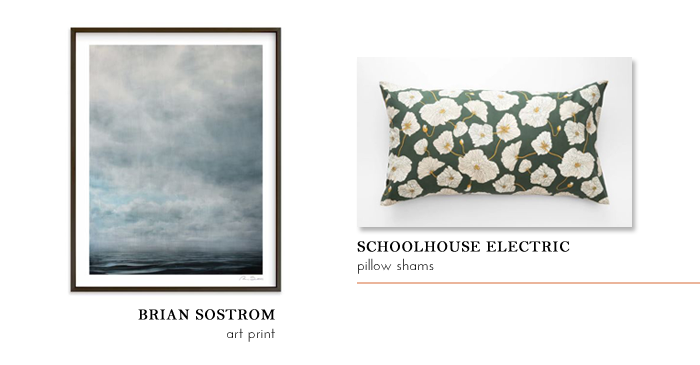 PURCHASED – FOR HOME
A Meditation art print by Brian Sostrom – I love this print more than I can possibly tell you. I originally bought it for the bedroom, but Dave thought it was too moody (pssh — I think it's calming) and I moved it to our entry. I went with the 18″ x 24″ print with the matte black metal frame. It has two hooks on top for hanging and I didn't want to deal with getting two nails correctly spaced and level, so I used this tutorial to add picture wire.
Schoolhouse Electric pillow shams in "Blooming Field" – I wanted to purchase these when they debuted this spring, but I kept hesitating. $36 on a king pillow sham is pricey, even though I loved them. I finally decided to go for it at the end of May and was crushed to see that they sold out. Schoolhouse said they'd be back in stock at the beginning of June. I checked every day that month. Nope. Then they said beginning of August. Nope. I finally received an email on Tuesday indicating they were available in limited quantities and I placed the order. I normally wait until items arrive to wax poetic, but if you want anything from the Blooming Field collection, now's your chance. (I'm sure I'm going to adore them in person. I crushed hard on every item at the Schoolhouse flagship store in Portland last year.)
–
Let's keep in touch!Instagram / Facebook / Pinterest / Bloglovin'