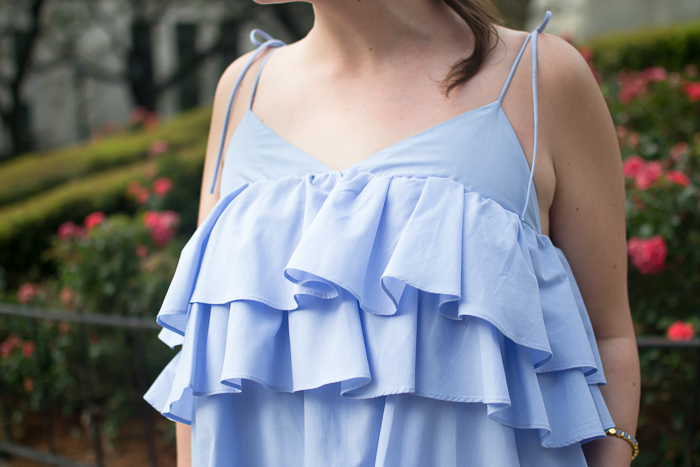 Ugh. I swear, what didn't I buy is a better question for this month's shopping confessions. I used our trip to New Orleans as rationale for quite a few purchases early in the month and even then I was still on budget until our weekend in Chicago led me astray. What can I say? Nordstrom Rack will always get me when there's a deal on a DVF wrap dress and Zara's trendy pieces are just too good to pass up. I'll subtract the deficit from next quarter's budget to stay on track with my annual allotment.
BUDGET
First Quarter Budget: $850
Spent in January: $358 (decreased thanks to a Nordstrom price adjustment)
Spent in February: $256
Spent in March: $401
Amount Remaining: -$165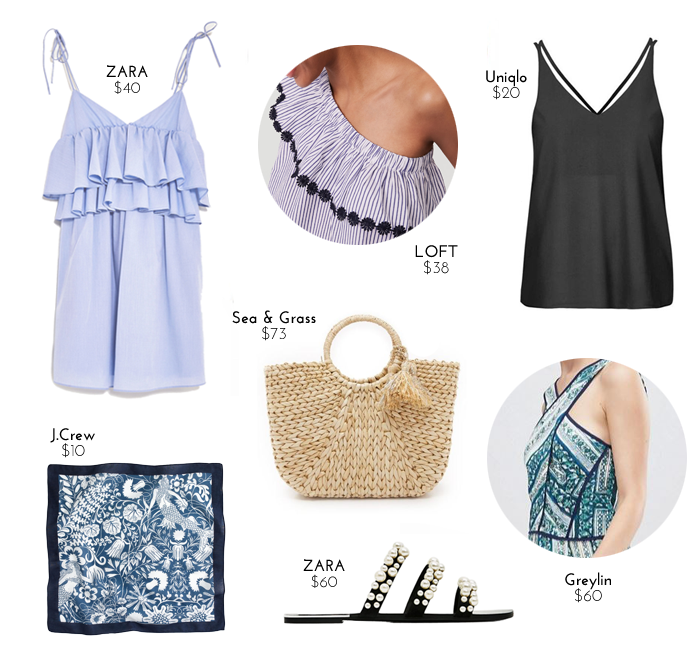 PURCHASED
See all of this year's sartorial purchases here. 
LOFT Floral Lace Striped One-Shoulder Top ($38): With floral lace trim and stripes, what's not to love about this top? It's such a pretty take on the one-shoulder trend. I wore it with denim shorts in New Orleans. Order your regular size and a size down to try them both. I liked the torso more in the small, but the elastic felt uncomfortable under the arm so I went with the medium.
Greylin Karissa Cross Front Printed Skater Dress ($60): ASOS has some great sale finds if you're patient enough to sift through hundreds of pages of merchandise to find them. I fell in love with this dress for its cross-strap detail in the front and the flattering piping. It's no longer available, unfortunately.
Sea & Grass Market Tote Bag ($73; featured here): The bag featured above is similar to the one I actually purchased on Etsy from Sea & Grass (a.k.a. my newest handbag obsession). It looks like they raised the price of the tote to $85 after I purchased it, but I'd still recommend it at its current price. I used it every day in New Orleans and it fit everything I could possibly need for a day out. The craftsmanship of the bag is beautiful and the semi-glossy finish makes it water resistant if you choose to bring it to the beach.
ZARA Pearly Strappy Sandals ($60): I feel like my style is completely on point whenever I order something and see it on Blair the next day. 😉 I just love these sandals. They're basically jewelry for your feet.
J.Crew Bandana in Mermaid Print ($10): I'm all about the scarf and bandana trend this spring. I've been wearing a lot of blue lately, so this one seemed like a no-brainer to coordinate with this season's ensembles either tied around my neck or on the handle of my bag.
ZARA Strappy Dress with Frills ($40; worn above): I kind of feel like a flouncy cupcake in this dress. I can't say it's the most flattering thing I own, but it's just too fun. It's lined, which was a nice surprise for such an inexpensive dress. I went up a size.
Diane von Furstenberg "Julian 2" Mini Wrap Dress ($70; not pictured): I found this at Nordstrom Rack in Chicago and couldn't stay no to such a deep discount on a flattering wrap dress. The color scheme I went with has a magenta background. I'm looking forward to wearing it to work this spring and summer.
Uniqlo High-Rise Drape Shorts in black ($30; not pictured): I bought these to wear with the black tank top I also picked up at Uniqlo. Together, they create the illusion of a romper, but it's way more practical when ducking into the ladies' room. These were great for travel, too, since the fabric didn't wrinkle even when shoved in a suitcase and taken out only on the last day.
Uniqlo Tank Top in black ($20; similar to the one above): I wish this was available online. It's similar to the Topshop one above only without the double strap detail in the back. It's the same material as the shorts, making it great for travel.
GIFTED
As always, I want to be transparent about what I've received from companies for review or as part of a collaboration.
DIDN'T WORK OUT
Things I tried and didn't love. 
ASOS Salon A-Line Lace Mini Dress: I so badly wanted this to work! While it's incredibly adorable in person, I just didn't see myself wearing it more than once or twice. (It's okay, though. I did buy a yellow dress in January!) If you have a special occassion coming up, give it a whirl! I found that it ran large around the chest, which is really the only place you're fitting this for.
LOFT Vine Sleeveless Shirt Dress: I'm really surprised this is almost out of stock already. It's fine, but I thought the pattern seemed too old-fashioned in person.
J.Crew Factory 5″ Pull-On Shorts: These run true to size, but they gave me major FUPA. :: blush :: (Is that too honest for the blog?)
DAYDREAMING ABOUT
The items I just might add to my wardrobe next month.
The loafers I've been contemplating for over a month now.
***
I'll be linking up with Fran!