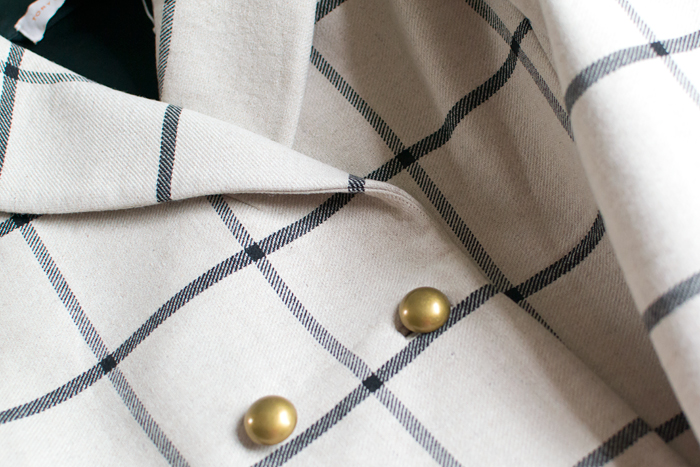 OBSERVATIONS
For the second month in a row, I've stuck with a "fewer items, better quality" mantra with attention paid to "missing links" in my wardrobe. As I mentioned last month, I sought to add a black shift dress and a statement coat to my closet. I found a suitable dress at Banana Republic. While it's not the heavy crepe or wool dress I had hoped for, it is a heavier ponte knit that hangs well and it has the most charming ruffled hem. I had made all of my clothing purchases this year on my Banana Republic Visa card, giving me enough reward coupons to bring the price down to $7. I also picked out a Tory Burch plaid coat after the J.Crew cape I originally yearned for missed the mark. So, what's coming up next? I placed an order at Zara so I could try out these shoes and a couple of dresses. I'd also like to purchase a black turtleneck sweater. Aside from that, there isn't anything on my sartorial wish list.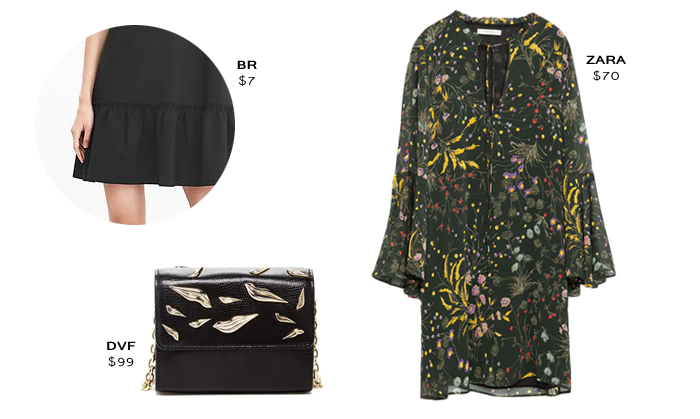 PURCHASED
See all of the year's wardrobe additions here.

Zara floral tunic dress ($70): This is undoubtedly my favorite item for fall. I purchased it in Georgetown when we visited D.C. over Labor Day weekend and couldn't wait to wear it the very next day (seen here). It gives off just the right amount of '70s vibes and the color is perfect for autumn. My size varies wildly at Zara, but I went with a medium in this. Go with the smaller size if you're between two and ordering online.
Banana Republic ponte ruffle dress ($7, after a promotion and a boatload of reward coupons): The dress has a bit of heft to it, allowing it to move nicely and stay relatively wrinkle-free during the day. I've only had it for a few weeks, but I've already worn it a half dozen times. It's easy to dress up with layered jewelry and heels, down with a crossbody bag and ballet flats, or for work with a blazer and loafers.
Diane von Furstenberg lip mini bag ($99): I have such a thing for tiny impractical bags. I love DVF's iconic lip print on this mini crossbody. It's perfect for a hands-free night out when you only need the essentials.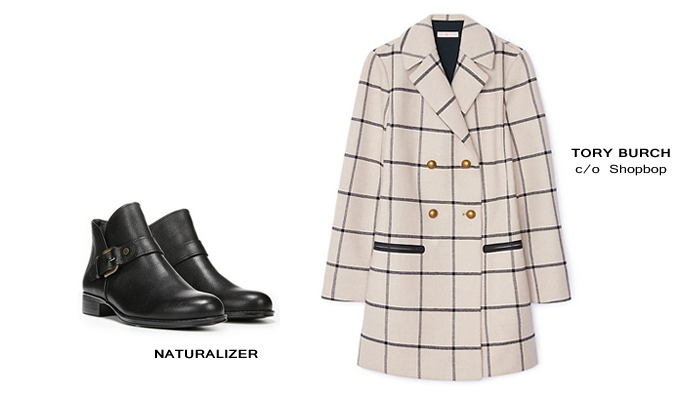 GIFTED
As always, I want to be transparent about what I've received from companies for review or as part of a collaboration. I'm selective about the pieces I accept and will only work with companies I feel good about recommending.
Tory Burch plaid short coat (c/o Shopbop): I can't even believe that I own such an expensive (and amazing) coat. As you know, I partnered with Shopbop for several months and received a shopping credit in exchange for talking about the sales and items I would have shared anyway. While I could have used those credits on a couple of new items each month, that seemed like a such a waste. Instead, I selected truly special items I wouldn't have purchased otherwise, including a pair of black Ferragamo flats and Karen Walker sunglasses. This coat is my latest addition. It's a classic cut with just the right amount of '60s mod influence and I know it's something I'm going to look forward to wearing every year.
Naturalizer "Jarrett" ankle boots: Along with using collaborations as an opportunity to add investment pieces to my wardrobe, I also try to expand my horizons and try something outside my sartorial comfort zone. When Naturalizer reached out about a fall collaboration, I'll admit that ballet flats were tempting, but I'm happy I went with these ankle boots. They're so comfortable!
DIDN'T WORK OUT
Of course, with every successful shopping month, there are some misses:
J.Crew cape jacket: I'm confused by online reviews praising the camel color. It's not the rich, warm caramel hue that I expected when I ordered it. Instead, it's more of a cool tan. I hated the color so much that I reluctantly returned it. On the upside, the quality is wonderful. I have narrow shoulders and ordered the XS/S, which was the correct size.
***
linking with Fran