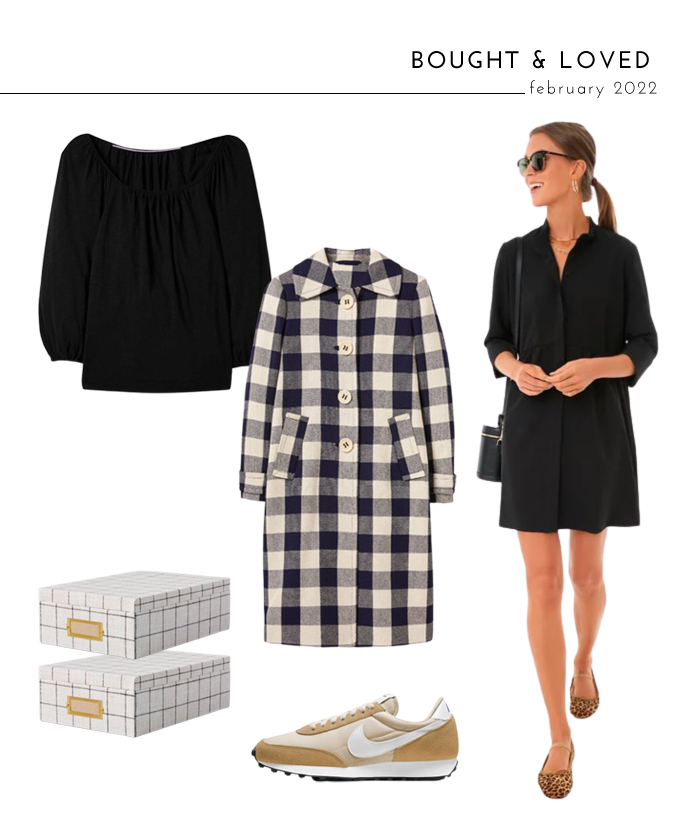 The star of the show this month is undoubtedly that gingham coat. It's beautiful! I fell in love with it on the brand's Instagram feed and couldn't get it out of my mind. I decided to order it with a portion of my tax return so I didn't feel as guilty about adding yet another coat to my collection. If you haven't already, sign up for Boden's emails to stay abreast of discount codes. I saved 20% on the coat, which was a not-so-insignificant amount of money. As always, mini reviews, links, and the price I paid are listed below.
WARDROBE
See this year's sartorial additions here.
HOUSEHOLD
Target fabric storage box ($17) – The pattern on the top of these storage boxes doesn't line up with the bottom, so steer clear if that'll bother you. Otherwise, these are pretty cute for some hidden storage on a bookshelf.
Vintage wine glasses ($15/set of six; find them on eBay) – I always believed that any glass could be a wine glass if you put your mind to it, but I do feel like more of an adult after finding a cute vintage set. 😉
–
Let's keep in touch!
Instagram / Facebook / Pinterest / Bloglovin'
This post contains affiliate links.