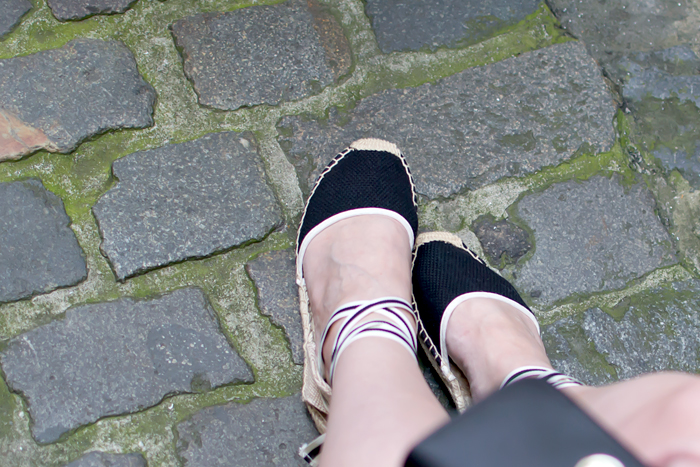 You'd think this month's sartorial update would be sparse given that I was out of the country for half the month. Nope. I gave my credit card a good workout the first week of the month, especially with the temptation of the Shopbop Friends & Family sale and indulging in my latest obsession: Soludos espadrilles. I was foolish not to embrace this summer staple earlier. They're incredibly comfortable and you don't have to worry about a perfect pedi! I'm considering these wedges next or this cheeky oui/non version.
In other news, we're just a few short days away from my birthday month, which is typically carte blanche to buy anything and everything that strikes my fancy! But, I'm a responsible adult and I'm not going to do that. Instead, I've already ordered this off-the-shoulder dress from Banana Republic — a steal at $53 when you factor in the 40% savings with code BRSAVE — and the remaining $275 of this quarter's budget will go toward one special item for my birthday. Honestly, it might not even be wardrobe-related. One of my favorite birthday splurges was on a Gray Malin print. (I usually add in another $200 as a birthday treat for myself, but we have to finish paying off our trip expenses this month. Scandinavia is not budget-friendly!)
BUDGET
Spring Budget (March – May): $750
Spent in March: $421.50
Spent in April: $350.25
Added: $350 in blog revenue*
Amount Remaining: $328.25
* Most of the money I earn from the blogging goes into my general savings account or is earmarked for travel, but I'll move some to the clothing budget when needed.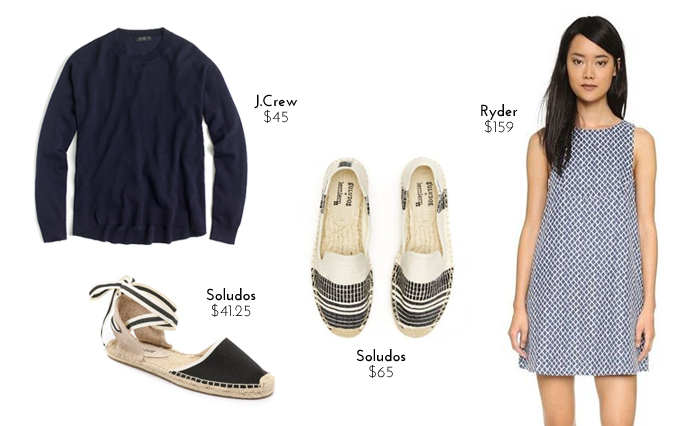 PURCHASED
See all of the year's wardrobe additions here. (It looks like I need more color in my life!)
J.Crew lightweight wool tunic sweater in navy ($45): I wanted a loose-fit sweater to wear with jeans and skirts when I wasn't feeling svelte. This fits the bill and I love the pretty perforated detail on the sides. I went with my normal size small for J.Crew sweaters.
Soludos x Lemlem espadrilles ($65): I've long admired Soludos, but was foolishly convinced the jute sole would be uncomfortable. Pssh. They're amazing and feel like slippers that are socially acceptable to wear in public. I went with my normal size 7. They're snug, but everything I read says that's how they are supposed to fit because the cotton upper will stretch out with wear.
Soludos lace-up espadrilles ($41.25): The espadrilles above were the gateway to a newfound obsession with the brand. I bought the lace-up pair during the recent Shopbop Friends & Family sale. Like the pair above, they fit true to size.
J.Crew Factory scarf ($20; not online): It's sort of like this one, but the scarf I picked out at the store has white, lavender, and orange stripes. It's lightweight and gauzy. It actually reminds me of a Lemlem scarf, but comes with a much kinder price tag.
Ryder shift dress ($159): This was another Shopbop sale pick this month, chosen on a whim. I wanted a dress that would transition easily from work to weekends and loved how this one matched the cut of my beloved ASOS shift. I actually went up a size and plan to bring it to the tailor to have back darts put in to bring in the back just a touch. It's a little baggy in the lower back because I needed extra room for my hips. That aside, it's perfectly fine to wear now without the alterations. You can see it here.
H&M necklace ($20; not online): Despite the fact that there are H&M stores everywhere in the U.S., I couldn't resist picking up an oversize pendant in Antwerp while we were abroad. It's not online yet, but I'll include it in an upcoming outfit post.

GIFTED
As always, I want to be transparent about what I've received from companies for review or as part of a collaboration. I'm selective about the pieces I accept and will only work with companies I feel good about recommending. 
DIDN'T WORK OUT
Things I tried and didn't love: 
J.Crew frayed chambray shorts: These are not chambray. They are denim.
Banana Republic tile print ruffle dress: The waist fit perfectly, but the bodice was too long making it billow out too much in the back where the zipper was. It would have been too expensive to tailor, especially after paying full price on the dress.
Rebecca Minkoff "Addison" off-the-shoulder dress: I received a sale alert from Amazon and clicked through to find this off-the-shoulder frock with a deep discount. I didn't hesitate to click the "purchase" button, despite a hunch that the 10 would be too large (it was, indeed, massive). Sizing aside, the thing that bothers me the most about this dress is that the off-the-shoulder portion has a raw hem. Nothing looks messier and cheapens a look than a frayed raw hem (denim gets a pass, of course).
***
linking with Fran