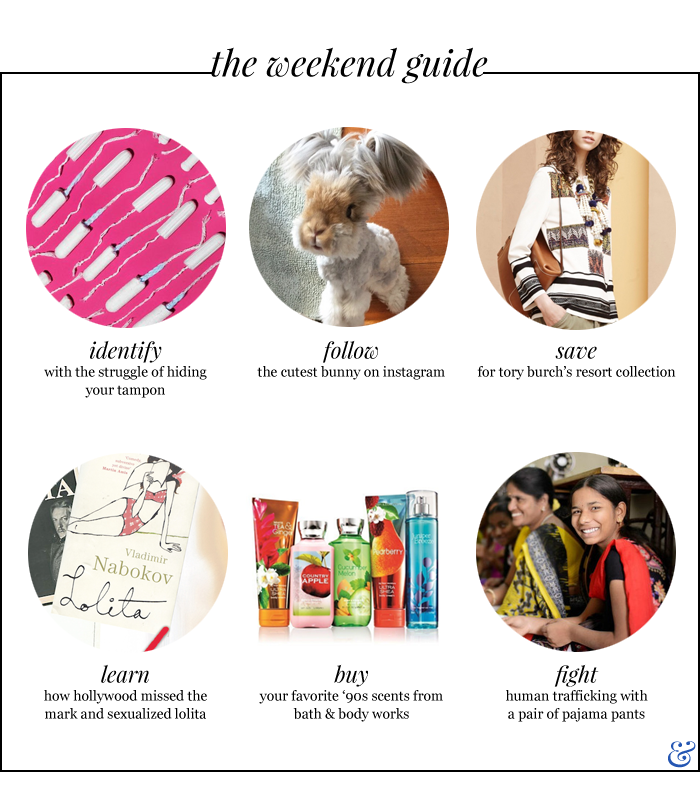 IDENTIFY
If there's one thing women are good at, its keeping menstrual products hidden. Here are some insights into why we're ashamed to be seen with a tampon.
[spacer]
FOLLOW
Wally has received quite a bit of Internet attention lately and for good reason: he's pretty much the cutest thing on Instagram. I've never wanted a pet rabbit as much as I do now. I just don't think Bacon would play nice.
[spacer]
SAVE
Tory Burch's resort collection is so good. It has many of the same artisanal elements as her most recent work, but with a bit more southwest textures and design elements.
[spacer]
LEARN
One of my majors was in English and I was always a bit surprised by our culture's decision to sexualize the child in Nabokov's Lolita. This essay explores the influence of Hollywood on our perception of the iconic novel.
[spacer]
BUY
Bath & Body Works is bringing back six classic fragrances from the 1990s for a limited time. Now's your opportunity to smell like Juniper Breeze again. (I was more of a Freesia girl, myself.)
[spacer]
FIGHT
Sudara provides jobs for women in India to keep them out of slavery and sex trafficking. Pajama pants come in at $44, a small price to pay to be part of such a noble cause.
[spacer]
---
// additional image via //