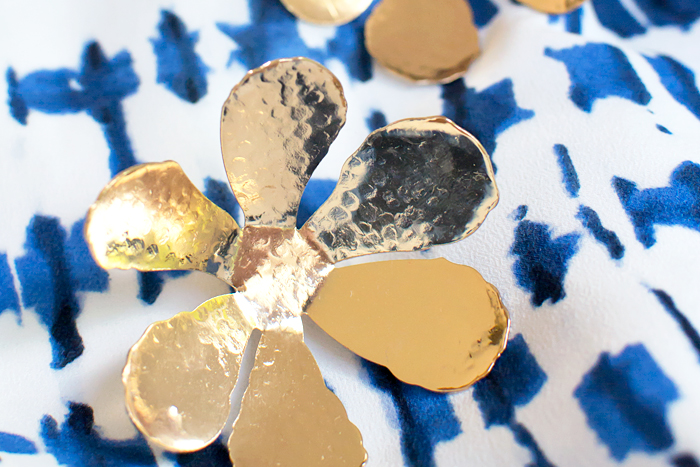 I had a lot of fun shopping this May (#BirthdayMonth). The pieces brighten up my otherwise drab wardrobe additions this year, adding a much-needed dose of color and whimsy just in time for summer! With the exception of the pineapple shorts from Ann Taylor, I'm enamored with everything I purchased this month. In fact, the loafers are already my go-to work shoe and I've only had them for a week!
This month actually brings my second quarterly budget to a close and it's the second quarter that I've come in with money to spare (after adding in some blog revenue). A quarterly budget has given me the flexibility to spend more at the onset of a season when I'm most excited about clothing or when there's a hole in my wardrobe I'm looking to fill — and it's definitely going to come in handy next quarter. I've found myself reaching for dresses with waist definition lately. That hadn't been my M.O. for so long that it's making getting dressed a challenge. Most items in my summer wardrobe are loose dresses. I'm looking for a few belts to wear with my existing collection (possibly this one and this one), but I'm really hoping to add a few more nipped-in numbers in the coming months.
BUDGET*
Spring Budget (March – May): $750
Spent in March: $421.50
Spent in April: $350.25
Spent in May: $356.50
Added: $450 in blog revenue**
Amount Remaining: $71.75 (heading to the savings account)
*I don't add money for tax and shipping into my budget. I probably should next quarter.
**Most of the money I earn from the blogging goes into my general savings account or is earmarked for travel, but I'll move some to the clothing budget when needed.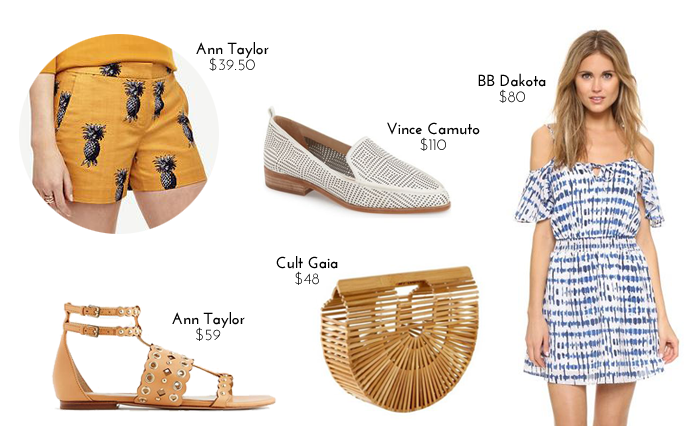 PURCHASED
See all of the year's wardrobe additions here. 
Ann Taylor pineapple-print shorts ($39.50): I'm pretty disappointed in this purchase. The shorts seemed tight in the dressing room, so I went up a size. Within hours on the first day I wore them, they stretched out a full size and the hem on the right leg fell. What awful quality. I do love the print, so I'm going to attempt to salvage them by washing in hot water and putting them in the dryer.
Ann Taylor "Monica" grommet strappy leather sandals ($59; purchased with a discount code): Sometimes waiting for a promo code pays off! I can't tell you how many times I almost pressed the purchased button on these before Ann Taylor finally released a 40% discount code. They run true to size and the leather is soft. I did get blisters the first day of wear, since they rub on different areas of my feet than my other sandals do, but that was after walking a mile. I may have overdone it on their first day out.
Cult Gaia ark handbag in large ($48; purchased with a discount code): Last year, the price of the small version of this bag was $38 and the large was $48. Earlier this season, they were $48 and $58, respectively. Now, the small is $88 and the large is $95-98, depending on where you buy it. It is not worth that much money. It's incredibly impractical, and Dave thinks it's one of the stupidest things in my closet. (#Truth) I still love it, though. I just can't recommend it at its current price.
Mango floral earrings ($20; pictured in the top image): These things are huge and I can't tell you how much I love them! It's hard to find such a major statement earring that's as lightweight as these. I've received a ton of compliments each time I've worn them. Just make sure to take them off before answering the phone. I forgot I was wearing them at work and they made an awful clanking noise when I held the receiver to my ear that jarred the person on the other end!
Jack by BB Dakota "Vivi" dress ($80): This little number is my birthday dress (coming up on Monday!). I wish it wasn't sold out because it's just the cutest little thing. The elastic waist is flattering and it's lined. Update! It's actually available here for just $70!
Vince Camuto "Kade" cutout loafers in white ($110): These are the best summer loafer I've found yet! I wore them to an event last week and didn't have one blister during the evening. The recommendations suggest sizing up a half size. I ordered both a 7 and a 7.5 to try. I'm usually a 7 in every shoe I try on and ended up selecting that size in these. However, they are tight at the end of the day when my feet swell. I'm hopeful that the leather will stretch out with time. I've only owned them for a week. The 7.5 slipped off my heel when I walked. So, if you find yourself between sizes, go up a size. Otherwise, I'd suggest ordering both and giving them a test run on carpet.

GIFTED
As always, I want to be transparent about what I've received from companies for review or as part of a collaboration. I'm selective about the pieces I accept and will only work with companies I feel good about recommending. 
Larimar gridden stone cuff: I'm not a huge fan of silver when it comes to statement jewelry, but this cuff is making me reconsider and I'm antsy to show photos in an upcoming outfit post.
LovePendants citrine pendant with "J" initial: This is also coming up in a future post. It's a neat concept. Instead of a traditional initial necklace that's engraved on metal, this is etched into a gemstone.
DIDN'T WORK OUT
Things I tried and didn't love: 
***
I'll be linking with Fran tomorrow!